How Renault can win in F1 - Cyril Abiteboul on Renault's motorsport plans
The man in charge of Renault Sport F1 tells evo why motorsport is so important to the brand
'Our ambition is not just to participate in Formula 1. We have no intention to make up the numbers – if we're here, it's to win. And I think Renault can make that statement, because we've won in every single category in which we've competed. We've won in F1 as a team and as an engine supplier – twelve times. We've won in endurance, we won the first season of Formula E with e.dams, and there's no reason we can't repeat that in Formula 1. We know the way.
'How do I take Renault back to the top in F1? The plan is to start where we needed to start. We needed to buy a team, we needed a management structure, we needed partners to have a budget, we needed a driver line-up – for today but also for tomorrow – and we needed a strategy. There's a new engine technical director, Rémi Taffin, and Bob Bell [technical director during Fernando Alonso and Renault's 2005 and 2006 championship wins] has been appointed chief technical officer of the team. Today we're organising the personnel and the strategy; tomorrow we work out how to apply it.
'The ambitions of a works team owned by a worldwide manufacturer are different to how they were at Lotus. The financial resources are different, too, but so is our accountability. We have to find some form of connection, reporting and accountability to Groupe Renault, and compliance with its policies, but we need to be capable of making decisions in the very specific environment of Formula 1. That can be as simple as making sure I can offer an engineer a salary package competitive to F1, and not just the car industry as a whole.
'It's taken some time to come back because we knew we wanted to be able to win. It wasn't just a desirability or marketing decision. Last year was a complex season, so we had to manage and smooth the transition from being an engine supplier with Red Bull Racing and Toro Rosso to being a full team with all the stakeholders that are involved. Last year was not a total loss, because clearly Renault has managed to rebuild its confidence and its relationship with F1, which was under a hardship.
'We've made significant changes to the engines for 2016. It's no secret that we actually got the hybrid element right. Maybe that's down to our connection and experience in the world of electric vehicles, which also is backed up by what we're doing in Formula E – we're the Mercedes of Formula E, we're really dominating. The internal combustion engine was where we were behind, so that's what we've focused on. This year's engine is different to last year's – it'll be different by the end of the season, too – and we're already testing 2017's engine on the dyno. We're making good leaps ahead, but implementing them and testing on-track will take some time.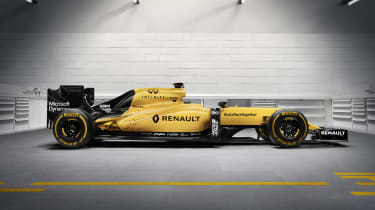 'The way we see Formula 1 is very much as a spine to the racing activities. We invest in technology, people, processes; we've got connections with partners, with the FIA and so on, but there are many other things. One clear example is Formula E. We are involved in this championship – it's fair to say that Renault is a founding partner, both from a technological perspective and also from a team perspective from our association and involvement in e.dams. We really believe in Formula E – we are completely committed to the series, but also Renault e.dams as a team.
'Can we justify involvement in Formula 1 when Formula E is less expensive and still has a global reach? We asked ourselves that question, but we've obviously been very careful to look at and compare figures in terms of audience, in terms of media value, awareness of the sport and the different carmakers that are involved in the sport. Frankly there is absolutely no comparison – Formula 1 is incomparable for reach at this moment in time. There are always the questions of if and how we should step out, and whether it is good to be in the sport, but when you look at the figures, at the audience, there is nothing that comes close to Formula 1.
'At the same time, F1 doesn't achieve everything for us. We want to showcase our road-car products, so we do that with Clio Cup, and we've done that with Clio R3 in rallying. We want to showcase our design – a great example of that is the R.S. 01 race car. We also want to showcase the future in important segments, which is where our Dacia Duster entry in the Dakar comes in. There's also Formula Renault, and we're interested in new and emerging trends in motorsport. We're inspired by extreme sports such as snowboarding and so-on, so we're looking at completely different things.'
Taking on the big boys
We all want Renault to succeed in Formula 1, don't we? The French firm has produced some of the series' most successful engines – third to Ferrari and Ford in race wins, despite only entering the sport in 1977 – and powered some of its most iconic cars, from the turbocharged monsters of the 1980s to the Williams and Benetton cars campaigned my Mansell, Hill and Schumacher during the 1990s.
It's far too early to tell, even after three tough races in 2016, if the newly formed Renault Sport Formula One Team can replicate its earlier success – particularly that of its extraordinary dominance in 2005-06 with Fernando Alonso. But everyone from CEO Carlos Ghosn to its drivers, Jolyon Palmer and Kevin Magnussen, is motivated by the team's prospects. It's been a shaky start to the season, but we can't wait to see how the story develops. Antony Ingram