Noble M12 GTO buying guide
This British road-racer handles like a big Elise yet has the pace to humble supercars – and now you can pick up a low-mileage example for the price of a hot hatch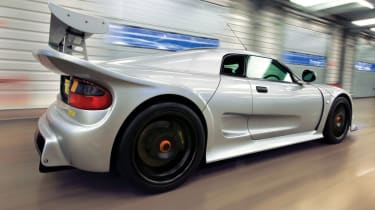 This surely can't be right. Is it really ten years since Lee Noble showed us his M12 GTO and proved that being a small, new and optimistic specialist car-maker in the UK didn't have to be the recipe for disaster and obscurity typical of the genre? Giant-killing was just one reason why the critics loved the Noble. It wasn't just that this twin-turbo, V6-powered, mid-engined machine worked, and worked brilliantly. It was also that this car, which was able to compete, dynamically at least, with the best of junior supercars, came from a cottage-industry car-maker with minimal resources and little more than one man's vision – a vision that  encompassed design, engineering, chassis tuning, manufacture, the lot. There was something of the Colin Chapman about Lee Noble. Still is; his ongoing Fenix project might yet repeat the magic (or might not).
Why was the M12 so good? And is it still so good that buying one, now anything between five and ten years old, is wise in 2011? The Noble's ingredients are key to both its critical acclaim and the worries that have since emerged. Put simply, you can't expect Porsche levels of quality, durability and finish in a car built on a simple fabricated tubular chassis, clothed in hand-laid glassfibre panels, powered by a vigorously exercised Mondeo V6 engine and gearbox, and sprinkled with spot-the-part switchgear.
Things break, especially if a Noble is used as a daily driver – which is more likely now they have dropped in price and become 'affordable'. That said, fixes have been developed for most of the major problems and a good car will have benefited from them.
As launched, to the general view that it drove like a big Elise with massively more thrust, the M12 had 310bhp with the help of its pair of Garrett T25 turbos. This gave it vital statistics of 165mph and an extraordinary 4.1sec to 60, all garnished with a quasi-racer feel heightened by the very visible, Alcantara-trimmed roll-cage and no-nonsense instruments. There was no ABS, no traction control, no ESP to rein in any ill-judged over-indulgence of the engine's almost savagely vocal enthusiasm or to help you on a sudden throttle lift-off. All you had was the loud chirrup from the wastegates adding to the intake commotion from the air filters just behind your head.
That changed with 2003's GTO-3, now up from 2.5 to 3 litres and 352bhp. The air filters moved to the rear of the engine bay, near the intercooler, and the GTO-3R version added a six-speed gearbox (still Mondeo ST-sourced) and a Quaife torque-biasing differential. The tiny Cibié headlights gained covers, too, and the wheels were new ten-spokers.
Finally, in 2004 the M400 version arrived with a Roush-tuned, 425bhp engine, revised springs and dampers, and a slower steering rack to make the car less twitchy. It's the ultimate GTO with prices to match.
Here, though, we concentrate on the regular GTOs, where the really tempting value lies. A Noble is a brave purchase, but buy well and it will be a massively rewarding one.
'I bought one'
JAY BUNDHOO - 'I paid £22,000 for my Noble a year ago. It's a 2.5, but the engine was rebuilt to a spec which gives it 339bhp. It had sat outside, not being used, for a long time before my ownership and there was corrosion on the castings and in the electrics, but that's all sorted now.
'When I first drove it, I was amazed by how compliant the suspension was. It's a great compromise between road and track. I'll go to the Nürburgring in it this year and we'll also take it to France a couple of times. There's no boot, but you can buy a six-piece luggage set to fit behind the seats.
'People think it's Italian, so I like telling them it's British. The looks the kids give it when they see that massive spoiler… But it doesn't make other drivers aggressive. People let you out of turnings and slow down so you can overtake. I even got a flash and a smile from a Cayman driver this morning!
'It's a bit kit-car here and there, it drinks fuel and the windows wind down only two-thirds of the way, but I love it. It brings out the kid in me.'