VW Phaeton replacement teased ahead of Geneva motor show reveal
Sketch gives first look at new 'Arteon' four-door coupe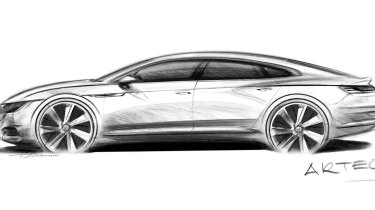 Volkswagen has released a sketch of its Phaeton replacement, the Arteon. This new range-topping saloon will be properly unveiled at the Geneva motor show in March 2017, but the solitary drawing you can see here gives a suggestion of what we can expect.
The Arteon's silhouette is more coupe than conventional saloon, and doesn't look dissimilar to the Passat CC's. The sketch doesn't reveal much else, but VW has said that the car will have frameless side windows and a large, hatch-style tailgate, so despite its elegant coupe-like profile, the Arteon is clearly intended to be functional and practical.
VW says the most dramatic part of the Arteon will be its nose. You can't see it in the drawing, of course, but the car's front end will show a new design direction for the company. The currently secret look features horizontal bars for the radiator grille that extend the full width of the car and combine with the front headlights, the LED lights accentuating the new design even further, apparently. The way the VW emblem merges with this grille is new too, but VW hasn't divulged exactly how that might look.
> Click here to read about the VW I.D. concept
At 2016's Paris motor show, Volkswagen unveiled the ID concept and declared that it showcased the firm's latest design language. However, being electric-powered, the ID has no radiator grille to speak of, let alone one with full-width horizontal bars. We don't know yet whether VW has chosen to combine the two directions for the Arteon, or save the larger car's look for its premium models.