Volkswagen Golf R power reduced due to new WLTP regs
And adding insult to injury, the manual and three-door variants have been dropped too!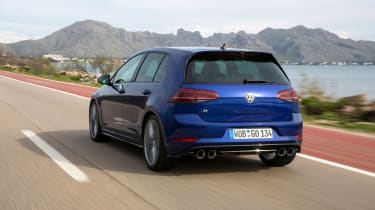 Volkswagen has announced that the current, Mk7.5 Golf R is about to get a drop in power in response to incoming World Harmonised Light Vehicle Testing Procedure (WLTP) emissions regulations. VW is not the only manufacturer having to adjust its most potent models, as Peugeot has also put a halt to sales of the 308 GTi by Peugeot Sport until an tweaked version is put into production later this year.
The drop in power for the Golf R is mercifully subtle, by 10bhp to 296bhp, but the news also comes in light of VW's decision to drop both the manual and three-door variants too, although this, the company says, is due to customer demand, or rather a lack of it.
> Click here for more on the next-gen Golf R
In a statement to evo, Volkswagen has said 'in the context of new homologations, there are adaptations for the exhaust gas treatment and for the power output. From now on, all Golf R models will feature a 300 PS engine.'
Essentially the power loss has come from the need to fit a more restrictive exhaust to reduce nitrogen oxide emissions – something more stringently policed under WLTP. SEAT also recently went through a similar process with its Leon Cupra.
With an all-new Golf  on the horizon, however, these changes are really just a stop-gap until the next-generation version of the R arrives. It's expected that hybridisation will play a key role in the next Golf R, with rumours swirling of a circa-400bhp power output, raising the question of how much further the hot hatch can possibly go.