VW Golf GTI Performance Pack v Vauxhall Corsa VXR Clubsport: drag race
The VW Golf GTI and Vauxhall Corsa VXR Clubsport are two hot hatches at different ends of the spectrum, but both pack a serious punch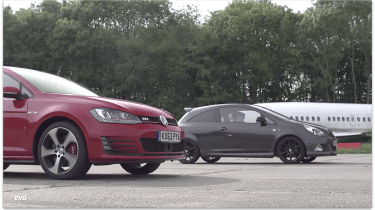 This week's evo Drag Battle sees the VW Golf GTI Performance Pack go up against the Vauxhall Corsa VXR Clubsport. This pair of hot hatches are at different ends of the hot hatch definition, and were measured over 1km at the runway at the Bruntingthorpe testing facility.
The Mk7 Volkswagen Golf GTI produces 227bhp when specified with the optional Performance pack like this car. It does a claimed 0-62mph in 6.4secs, going onto a top speed of 155mph. When ordered in a basic spec, the Golf comes in at £26,825 – although it's easy to go beyond £30k if you spec a few toys.
The Corsa does things a little differently, and is technically a class lower than the Golf – but its punchy 202bhp engine gives the Corsa an almost identical 0-62mph time of 6.5secs.  The Corsa runs out of steam a little sooner, at 143mph. Coming in at £22,390, it's expensive when compared with the direct rivals such as the Fiesta ST, but much less than the Golf.
When it was compared with the Renault Clio 200 Turbo on track, the Corsa VXR was actually quicker, so don't discount the little Vauxhall just yet. In this case, both cars feature a good old fashioned six-speed manual gearboxes, making it a fair fight. 
Both cars feature mechanical limited slip differentials, although this offers little in the way of any advantage in a straight-line drag race. Which will win? Find out in the video above. 
Want to see more evo Drag Battles? Watch our Youtube playlist here, or subscribe to our channel.