Watch - evo Track Evening in association with Sky Insurance
evo's Henry Catchpole takes you on a lap of Bedford Autodrome in a Porsche 911 GT3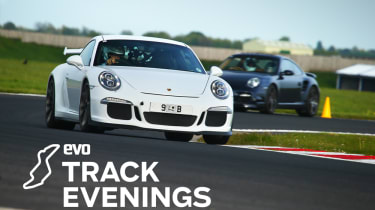 Bedford Autodrome is a bit of an evo favourite, playing host to some of our Deadly Rivals films, track testing and now, the first of our 2015 evo Track Evenings.
Put together in association with Sky Insurance, the Performance Car Insurance Specialists, the 15th of May event saw everything from a Mercedes-Benz SLS AMG to our own Fast Fleet Ford Fiesta ST take to the track.
evo's Henry Catchpole was there, in a Porsche 911 GT3 no less, to put in some laps. We've created a video to walk you through the circuit and give you an idea of what the evenings themselves are like.
For those keen to get involved, you can see a full list of pricing and dates here.