Dream Drive: Formula 1 at Circuit de Monaco
Following in the tyre tracks of Senna, Hill and Hamilton is just a dream away…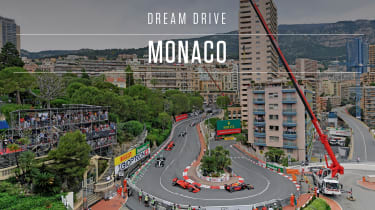 As the satiating effects of a Sunday lunch combine with the background noise of the turbocharged V6 engines on the television, you find yourself nodding off. The last words you hear impart the knowledge that 'Hamilton only has to complete another 59 laps like that and he'll win his 17th race of the season'. As you drop off, remote in hand, the commentary and modern F1 drone is replaced by something altogether more inspiring: a naturally aspirated V8.
At first, the source of the sound is hidden amongst the buildings. There are glimpses of a cerulean sea in the bay but it's mostly covered with a moving carpet of boats. Then you see the car flash past, water to its left. There are flashes of red and gold. A 1960s Lotus F1 car with a DFV in the back? Graham Hill at the wheel, perhaps. The wheels are certainly jutting out from the body, but the shape is wrong and the dampers appear to be inboard.
> Dream Drive: Isle of Man TT course in a McLaren F1
Now you're on the road, deserted in your dream, but devoid of the paraphernalia of the Monaco Grand Prix. Standing on the start/finish straight, pits behind you, the little car belts towards you, air intake jutting up like a Ferrari 312T's. Then you are inside chasing another one, following the exposed engine and gleaming silencer up the hill towards the casino. Plenty of exotica parked outside today, but this is better than all of them. A manual would be authentic, but the pneumatic paddleshift is instant in its response.
Hard on the left-hand pedal as you run down to Mirabeau, trail-braking to help the light nose into the corner. Through Loews, past the point where Senna inexplicably crashed, then flat out into the tunnel. It's more of a bend than it looks on television, but the noise of the Ariel Atom 500's engine is all you care about in here. Your eyes struggle for a moment as you flash from dark to light and you wonder if you'll get it all stopped for the chicane. You take more kerb than is ideal, and as a wheel gets airborne you jolt awake to the sound of the remote hitting the carpet. Just a dream.