'The occupants of a Porsche 911 with the Jarvis Cocker Pack will find their trousers firmly anchored'
Leather is overrated, reckons Porter. It's time to embrace the corduroy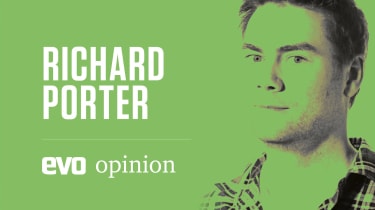 The Porsche Heritage Design Package is not cheap. It costs £6620, in return for which your 911 comes with retro-looking floor mats, green instrument markings and a silver 911 badge on the passenger-side dash. This is all well and good, but not what makes this package worth every penny. No, the reason I would happily spend the cash on the Heritage Design Package is because of the seats, which feature leather side bolsters in either black or Atacama Beige framing colour-matched centre panels covered in something truly excellent: corduroy.
Corduroy is a tremendous thing, and not just because in the mind's eye Jarvis Cocker is almost entirely made of the stuff. It's soft, it's tactile, it's more interesting than a plain, flat cloth. A fun fact about corduroy: in many European countries corduroy was known as 'Manchester', indeed in some places still is, because it was the eponymous English city that first started processing fustian cloth into the hard-wearing ridged fabric we know today. This in turn might explain why, growing up near Manchester in the late '70s and early 1980s, I felt like a lot of the world was made of corduroy. Everyone's smartest trousers were a nice pair of cords. Some people had entire three-piece suites skinned in the stuff. Combine the two and it's a miracle that the era of miniMetros and Quatro wasn't filled with a constant, friction-induced stream of spontaneous combustion.
Corduroy fell from favour for a while but now seems to be socially acceptable again. I particularly cheer its reappearance in cars, not only because I find it attractive, but also because of what it's not. It's not leather. And that's good because leather in cars is a crap idea. Somewhere down the line we've been conditioned to the idea that a car with leather seats is somehow 'posh', but this just isn't true. The soft, buttery cow hide artfully applied to every surface within a Rolls-Royce Phantom or top-end Range Rover might feel delightful, but the cheapo stuff slathered around the insides of less expensive cars is frequently a stiff, sterile disgrace. It's cold in winter, hot in summer, and slippery all year round, which is especially hopeless in cars you might want to chuck around a bit. Meanwhile I guarantee the occupants of a 911 with the Jarvis Cocker Pack will find their trousers firmly anchored during high-G cornering manoeuvres. 
> 'A two-spoke steering wheel makes sense in a sports car: it gives you more places to wrap your fingers'
The 'leather' in a lot of cars isn't even leather. Mercedes started using its proprietary faux-leather vinyl under the name MB‑Tex in the 1960s, for example, and plenty of other car companies have been laying on the synth-o-cow since then. Increasingly they're happy to admit it's fake, and when there are ten times as many vegans in the UK today as in 2014 you can see why. So why bother to imitate leather at all? Why not embrace the cord? Or the velour? Or the denim? All much nicer than leather, real or otherwise.
The smart driver knows that leather isn't posh and indeed isn't very nice. Just look at the example of one of Britain's greatest female drivers, Her Majesty Queen Elizabeth II. You might not be aware that the constitutional monarch of the United Kingdom is a helmstress but the signs are all there. She trained as a mechanic and lorry driver during the Second World War. It's a matter of record that in 2003 she lured the visiting Crown Prince Abdullah of Saudi Arabia into the passenger seat of a Land Rover and then, to his surprise, jumped into the driver's side and took him on a white-knuckle ride around the roads near Balmoral, perhaps making a subtle point about the competence of women drivers who were banned in the Prince's homeland at the time. And let's not forget this is the lady who, in 2001, took delivery of a bespoke Land Rover Defender V8 automatic and then shortly afterwards had it sent back to Solihull with a polite note asking that it be converted to a manual. So Her Maj seems like a lady we could do business with, and that extends to the spec of her Bentley State Limousine, delivered to mark her Golden Jubilee in 2002.
In the front, this car has leather seats. Very high-quality leather, I'm sure, but it's only for the staff, because in the back, where the boss sits, it has lambswool. Warm yet breathable, and infinitely more grippy than cow hide. More sustainable too, come to that. I'm not suggesting that the Head of the Commonwealth has ever discreetly leant into the intercom as the V8-powered Bentley has crested the last stretch of road to Balmoral and requested that her driver 'give it some', but if such a thing was to happen you can be certain that there would be little-to-no risk of distinctly un‑regal cross-car buttockular slippage. Because, you see, Her Majesty has been around a long time and she's learnt a few things. In particular, it seems, that leather in cars is terrible and wool is not. Though I like to think that if she ever got around to specifying a new state limousine she might give some serious thought to corduroy.