'Electric cars need more character, and there's an obvious place to look for it'
The electric car struggles to offer the same thrills as our favourite combustion models, but Jethro reckons he has a solution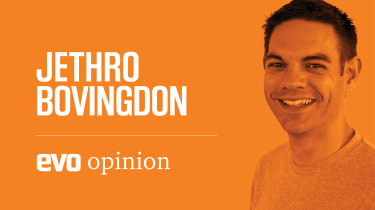 Character is hard to define but a very easy thing to recognise. It reaches out through mechanical components and grabs us by the guts and heart. Character is why you still pine after the old Clio Cup or 320i you once owned even though you've moved on to faster and 'better' things. Even the most unenthusiastic drivers aren't immune. You'll have a friend or family member who claims to have no interest in cars at all but fondly remembers 'Bertie' or 'Betty' or whatever they named their most dilapidated, dearly departed four-wheeled companion. Character is at the very heart of why we love cars. Sounds stupid, but it's true. 
Of course, character can be imbued or manipulated. Engineers have done it for decades. Tuning exhaust sounds, pushing our buttons with quirky interior features and – most pertinently for evo readers – enhancing or creating dynamic traits that allow the driver to really impose themselves on the way the car behaves. Handily, different manufacturers value different sounds, wildly different tactile sensations and put their faith in a plethora of mechanical layouts. People who love cars really are spoilt. Whether you're shopping for a hot hatch, supersaloon, sports car or supercar, you'll quickly recognise and adopt the character that most fits with your own. 
I think this is the root of why we're collectively struggling with the idea of a BEV-powered future. Unlike with conventional cars there is incontrovertibly a 'best' way to engineer a BEV, so everyone will essentially end up with the same skateboard layout to ensure a low centre of gravity and then play around with driven wheels and torque vectoring depending upon power output and application. 
> Lunaz reveals electric restomod Aston Martin DB6
Power delivery is uniform. Whether you have a mid-sized saloon or a 2000bhp supercar the EV experience is all the torque all the time. Amazing for 0-60mph stats and genuinely awe-inspiring. For a while, at least. In my experience EV life has a blissful honeymoon period, giving way to respect and admiration, followed inevitably by either boredom or complete apathy. Rather than taking on a persona that's bigger than the sum of their parts, electric cars tend to do extraordinary things and make them feel mundane. You could define this capability as anti-character. Your aunt won't be naming her car Tilly the Tesla and enthusiasts will end up choosing their future models based on past glories. 
Which got me thinking. Perhaps rather than trying to impose a new sort of character on machines that fundamentally have none, we should look to the past for inspiration. There's a horrible word often thrown around in meeting rooms: gamify. 'How can we gamify this idea?' Normally this is the point where I'd start throwing things, but I think EVs are ripe to be gamified.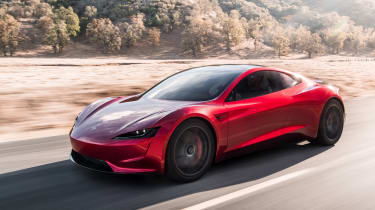 Here's how it works. A sophisticated EV architecture has a motor at each wheel, offering an unbelievable amount of control over chassis behaviour. These power units can also be tuned purely with software with no inherent mechanical foibles (turbo lag, for example). So whilst all EVs currently offer instant maximum torque and perfect linearity, there's no reason why this has to be the case.
So why can't I have an app to alter that behaviour? And since Land Rover has already shown us 'Transparent Bonnet' technology and we now have electronic rear-view and side mirrors, why can't my view out match the dynamic behaviour I've downloaded? Not only could engineers recreate a big-boost turbo delivery, or a screaming short-stroke motor, but when I look out of the windscreen I could see over the sharp wings of a Ferrari 812 Superfast, or as eyes flick to the rear-view mirror the world could be receding behind the rubber-edged whale tail of a 930 Turbo. The driving experience – steering response, weight distribution, balance and body movements – could all feel authentic, too. One car, multiple personalities. Your dream garage realised on one highly intelligent platform. Character, copied or not, preserved forevermore. 
The idea has another advantage, too. Rather than engineers obsessing over the last tenth of a second or trying to create driving experiences so 'everyman' that they end up disappearing into nothingness, they'd have no choice but to focus on the minutiae. They'd not only dedicate weeks to replicating the steering of a Lotus Elan but also be reminded why it was so celebrated in the first place. Tuning a power curve of a virtual Plymouth Superbird or an NSX‑R would spark a passion for theatre as much as bludgeoning performance. Lessons learnt during gamification would inexorably feed back into new-car development and maybe the generic nature of BEVs would start to disappear. Not only would old heroes be accessible to everyone, they'd inform the direction of travel for future icons, too.