'I was given Murray Walker's number and invited to ring him at home. A voice answered. That voice'
Murray Walker disproved the adage about never meeting your heroes, says Porter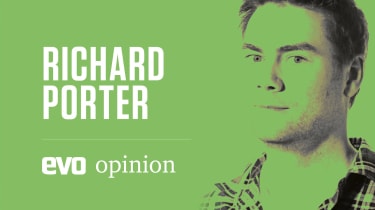 It was 2003 and we were making a strand for the next series of Top Gear in which celebrities nominated their greatest car of all time and then made a short film about it. Murray Walker agreed to take part and picked the McLaren F1. 
As script editor of the show it was my job to talk to these stars and turn their thoughts into something they could deliver on television. Once Murray's participation was agreed, I was given his number and invited to ring him at home. A voice answered. That voice. It was a mark of Walker's distinctive delivery that, like Sean Connery and Michael Caine, every man in Britain thought they could do an impression of him. But they couldn't. Their impersonations were lo-fi replicas of the real deal at full chat. They undersold Walker's true range, which peaked at that 18,000rpm wail to accompany overtaking moves and engine fires, but also included less urgent soliloquys over mid-level action and, below that, the deeper, more even tone in which facts could be delivered at a measured pace. 
It was this that came down the phone line the first time I talked to him. A reassuring burble, rich in that other quality the pub impressionists always missed: the beautiful, professional broadcaster's sense of timing and emphasis, of where to land weight, where to stretch vowel sounds, how to use the voice not only as a device for dispensing information but as a musical instrument with which to tickle the ears. And what Murray Walker was saying to me that day 18 years ago was equally remarkable; Murray Walker was inviting me to continue this discussion in person. Murray Walker was inviting me to his house.
> 'It's time for some hard truths about motor racing's influence on road cars'
The following week a colleague and I took him up on his invitation. He lived down in the New Forest, his house tucked away in the trees. A nice place, not too flash but comfortable and homely. Mrs Walker showed us in. 'He's just cleaning a silver plate,' she explained. 'I'll tell him you're here…' And then there he was, 79 at the time and officially 'retired' but as lively and light on his feet as we all hope we'll be at that age. 
We sat at his dining room table and began to discuss the McLaren. It quickly became clear that Murray had been doing his research. He'd dug out his copy of Driving Ambition, the official book of the car. We were still trying to get hold of one. He'd rung Gordon Murray to check a few facts. Our office hadn't managed that either. It was generally assumed that our team would do the legwork in researching and writing these greatest car films, but in this case we hadn't reckoned on the keen mind and scrupulous professionalism of Murray Walker. 
Nor had I any idea about what a thoroughly decent and delightful man he would turn out to be. He didn't have to invite us into his home, he didn't have to give us two hours of his time discussing the McLaren F1 film, which was work, and then casually chatting about the current Formula 1 season, which was not but which belied a man for whom job and passion merged seamlessly into one. 
As he showed us to the door we stopped at an upended Jordan nose cone in the hall, one of the retirement presents he'd received from a sport that clearly adored him. When he left, the drivers had put on a sort of gang show to honour his career, he said. They took it in turns to read out some of his infamous slip-ups and give him a good ribbing. Afterwards only one driver came over to make sure Murray wasn't too wounded by the piss-taking. And that, Murray said, is why Michael Schumacher is a good person at heart.
He opened the front door. 'How is it?' he asked, nodding at the Rover 75 press car in which we'd arrived. Beyond the McLaren F1, it had never occurred to me that Walker might be interested in road cars but he was keen to hear more about the 75, idly wondering if I'd driven its sportier sister, the MG ZT. He had an arrangement with BMW, he said. Drove a 5-series at the moment, M Sport trim. The next one, he said, would be the less stiffly suspended SE. 
We had a short discussion about the importance of good ride quality and then said our goodbyes, though it felt like we could have chatted all afternoon. Before our meeting I could have told you that Murray Walker was the voice of a whole sport, the sound of my youthful Sundays, one of the people who showed that good broadcasting is a craft and an art form. After our meeting I could also tell you that he was thoughtful, tack sharp, and wonderfully generous with his time. 
We got back into the Rover and drove away. He stood on the step to see us off. Not just the greatest motorsport commentator in history but a true gent to boot. May he rest in peace.