'How do most people choose their next car? The answer is depressingly simple'
The entire basis of modern consumerism might be underpinned by the sheer mass of folk who can't be arsed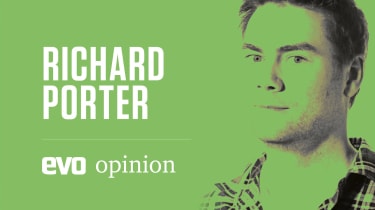 You're on the motorway. You're walking down your local high street. You're distracted by the background traffic in a news report about geese. And you're seeing people in cars. Cars that intrigue you. Cars that you admire. But mostly, cars that make you want to ask the person inside, 'Why on earth did you buy that?' Here's you and me poring over reviews, researching cars so forensically we're close to needing one of those big glass walls you can write on with special marker pens that only exist in crime dramas, but that's not how normal people buy cars. Someone from Ford once told me 90 per cent of Fiesta buyers didn't consult a single piece of media before signing up. So what drives the car-buying habits of the person in the street? Well, I think it's simply that they can't be arsed.
Let me tell you about my dad. My late father was a Rootes Group loyalist ever since he swapped his Cortina for a Hillman Avenger GT sometime in the early '70s. A couple of Avengers were parlayed easily into a Chrysler Alpine, followed by a brace of Talbot Solaras. The brand names kept changing but Dad's loyalty was unswerving, and when Talbot died he switched seamlessly into Peugeot 405s, which were sold by the same dealership.
And there's the clue to his devotion. He knew the dealer, he liked the cars, he felt comfortable with both. Switching his allegiance to some other company would have meant going to an unfamiliar dealer in a different part of town, getting his head around their range hierarchy, becoming familiar with their control layouts, their preferred brand of stereo, even the shape of their key. Or he could have stuck with familiarity, which is what he did even through that terrible period of the early 2000s when Peugeot lost the nice-looking, sweet-handling plot. My father, being a dad of a certain age, was a devoted reader of Which? magazine. You couldn't mention that you needed a new kettle without him rushing to the Which? archive in order to pass on its recommended buys. Any suggestion that you might deviate from this holy text of sensibleness was met with incredulity, or at least one of those dad hmphs that carries the hefty weight of fatherly concern. Yet when Which? said the Peugeot 406 had 'more faults than it's possible to list' my dear old dad went and bought one anyway. Because finding another make of car sold by another dealership would have been too much hassle.
> 2020 Peugeot 508 Sport Engineered unveiled – BMW 3-series rival turned to 355bhp
I don't think my father was alone in this. Indeed, the entire basis of modern consumerism might be underpinned by the sheer mass of folk who can't be arsed. People who go on holiday to the same place every year? Can't be arsed to risk disappointment. People who replace a faulty fridge-freezer with the same make even though the last one leaked brown stuff? Can't be arsed to adjust to a new style of egg tray. People who always buy the same jeans in the same style from the same place? Can't be arsed to risk something new that could make you look like Jay Leno's long-lost son. That Money Saving Expert chap is forever telling us we could save a load of cash by switching our energy providers, phone contracts and bank accounts, to which I want to say, 'Yes, thanks mate, I know you're absolutely right but you see, I simply can't be arsed.' My God, the entire insurance industry is built on the hope, come renewal time, that even an inexplicable rise in the premium won't outweigh the realisation that you've got 17 different things to do today and shopping around isn't one of them.
This, I suspect, also applies to cars. Marketeers will talk about brand loyalty as if it's built on noble pillars like alignment with the brand values espoused in everything the company makes, and while that might be true of, say, Lotus, I'm not sure it applies to people who just need a car. The salesman who sold you the last one wasn't too much of an irritant. The dealership isn't far from your house. They're running an offer for owners of existing models. You went in Carol's new car the other day and it's, oh I can't remember exactly, but it's got this different sort of iPad thingy on the dashboard and, well I can't be doing with learning how all that works compared to my car.
Here's you and me sweating over details, worrying about going ahead with a car that evo once said had slightly numb initial steering response, wondering if you'll immediately need to switch the OEM tyres for those other ones that are meant to give more progressive breakaway characteristics, and rereading every road test five more times. But without such minutiae and deep obsession, how do people end up in those cars you see everywhere, on the motorway, on the high street, in the background on a news report about geese? Well that's the power of can't be arsed.