Autobahns become toll roads from 2015
The German autobahn motorway network could become a toll road for visitors from 2015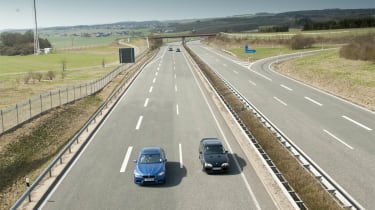 Paying for a lap of the Nurburgring Nordschleife is part of the ritual of visiting Germany's most infamous stretch of public road, but from next year foreign visitors may have to pay a toll to use the nation's autobahn network too.
The German government plans to implement a permit system for foreign drivers using the country's autobahns. Transport minister Alexander Dobrindt says the tolls will help maintain the country's infrastructure, bolstering Germany's economy by up to 2.5 billion euros over the next four years.
Germany's department of transportation estimates that foreign drivers make up to 170 million trips on the nation's roads each year, yet contribute very little to the network's upkeep.  Countries including Austria and the Netherlands have already raised complaints about Germany's proposal, but Dobrindt says the plans will be formalised into a law this year.
So what does this mean for Brits aiming for V-max on the famous de-restricted sections? Not a great deal, unless you're a regular visitor to the country. 10 euros will be enough to secure a ten-day pass, 20 euros will cover two months and an annual pass will set you back somewhere north of 100 euros (around eighty pounds). Each is a little more than Austria charges road users to drive on its less-frequented motorways, but short trips to Germany could still prove cheaper than the flat 33-euro annual fee for using Switzerland's multi-lane network.
However, those with faster vehicles are likely to end up paying more under Germany's scheme, as a vehicle's engine size, emissions ratings and age will all be taken into account. German motorists will also be subject to the charge, but Dobrindt's proposal includes compensation through a break in Germany's annual vehicle tax. The plan is already a hit with southern German drivers, long frustrated by Austrian and Swiss tolls while foreign visitors pound the autobahns for free.
One stumbling block for the German transport department's plans could stem from Brussels, as foreigners-only fees potentially contravene European Union non-discrimination laws. Those who regularly commute into Germany may well agree, but for Brits exploring Germany's de-restricted autobahns, the ten-euro fee may soon be an incidental cost on top of a 27-euro Nurburgring lap...