SEAT to develop high-performance electric Cupra range
SEAT boss Matthias Rabe 'totally sure' that electric Cupras are on the way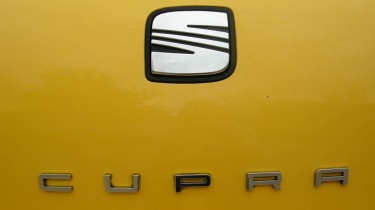 SEAT's Cupra line of high-performance cars is set to be bolstered in coming years, with the introduction of electric models, says SEAT R&D Boss Matthias Rabe.
Speaking to Auto Express at the reveal of the new Arona, Rabe said: 'Cupra is extremely important to us. And I am totally sure we will see Cupra versions of [our] electric cars.'
'Electric cars have fantastic performance and acceleration – Cupra and electrification is not a contradiction.'
Currently, the only model in SEAT's Cupra range is the Leon Cupra – the Ibiza Cupra has been discontinued to make way for a new Ibiza. A hot Ateca Cupra is set to join the ranks next year, though, with a 2.0-litre turbocharged petrol engine tuned to 300+bhp and four-wheel drive.
However, an electric Cupra would likely be based on a dedicated electric platform, rather than electrifying an existing model. SEAT's first dedicated electric vehicle is set to be launched in 2019, based on the VW Group's new modular MEB platform. Rabe confirmed that SEAT is targeting an electric range of over 300 miles.
But it's not just pure electric cars SEAT is chasing. Rabe admitted the brand is planning hybrid and plug-in hybrid versions of future models. 'We see more potential for 100% fully electric vehicle, but for also we see improvements for combustion engine vehicles and potential for hybridisation and plugin hybrid on existing vehicles,' he said.