Formula 1's Chinese Grand Prix postponed amid coronavirus outbreak
Formula 1's Chinese round has been postponed from its planned April 19 date due to the coronavirus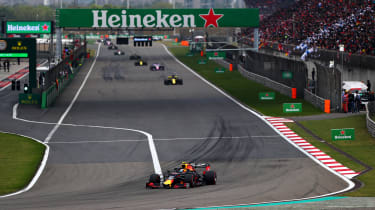 FIA officials and the Formula 1 governing body have agreed with Chinese F1 event promoters to postpone the Chinese round of the 2020 F1 season indefinitely amid growing concerns over the coronavirus outbreak.
Officials, both within the Chinese stakeholder organisations and the FIA, plan on monitoring the situation to inform a possible rescheduling later in 2020, should the situation improve. 
The Chinese GP was initially scheduled for an April 19 race date but the spread of the virus within China has caused the government to limit inter-city travel and impose curfews on both residents and businesses, measures that would dramatically affect the huge logistical effort of staging a Formula 1 round.  
No further rounds have officially been affected by the virus, but there are new question marks over other Asian rounds that are geographically close to China's mainland, including the inaugural Vietnamese F1 event to be held in Hanoi two weeks before the Shanghai round.
This is not the first FIA sporting event to have fallen foul of circumstances outside of its control in the recent past either, with the Australian WRC round last September being cancelled due to the Australian bushfire crisis that was ongoing at the time in Western Australia. It remains to be seen if any more F1 rounds in 2020 will be affected by the outbreak.