Mike Flewitt to step down as McLaren CEO
Ex-Porsche CEO and recent non-executive board appointee Michael Macht to take over operations until a new CEO is appointed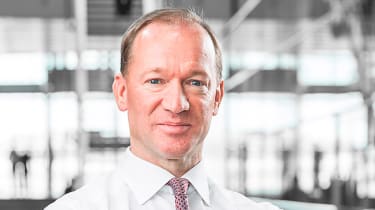 The McLaren Group has announced that Mike Flewitt will step down as CEO with immediate effect after eight years with the British supercar brand. The embattled British supercar maker has recently undergone some dramatic restructuring alongside its latest round of investment, making this change of leadership at the top of McLaren's operations not entirely surprising.
Ex-Porsche CEO Michael Macht, who was recently appointed as a non-executive board member, will step in to head up operations while a successor is put in place, with hope of bringing the whole group back into profitability after a tough few years post-covid due to challenges associated with Covid and the loss of its lucrative contract with Formula E.
> McLaren Artura revealed – all-new hybrid supercar to rival Ferrari F8 Tributo
Paul Walsh, executive chairman of the McLaren Group said 'Mike has been instrumental in McLaren now being recognised as one of the world's leading luxury supercar brands, achieving the heights of success that have taken our competitors many more decades to achieve.'
Of course the goal of financial success is one that McLaren still has a long way to go in order to reach, but it's one this latest set of leadership changes should foster. In the automotive business, the new Artura is key to this change of fortune, as it will finally drive revenue for the brand after years of R&D investment into a new generation carbonfibre chassis and hybrid powertrains that the Artura will debut. 
Unfortunately, this has taken a hit in recent weeks, with McLaren postponing the Artura launch only 48 hours before it was to take place due to a software glitch within the cars discovered in the closing stages of development. 
Despite this small setback, on a wider scale, momentum from all parts of the business continues to build as we look ahead, and McLaren's fortunes do appear to finally be heading in the right direction.