Lotus Exige S2 buying guide
The Lotus Exige S2 built on the original with a tough new engine, more power and options aplenty. And now you can get one for just £17K.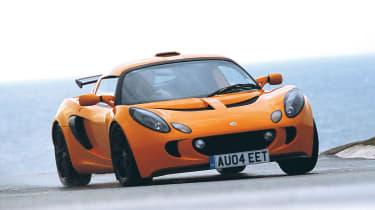 It may not have been borne directly from a race series in the manner of its K-series-engined predecessor, but the Lotus Exige S2 quickly proved that its mettle was forged in the same foundry. Launched at the Geneva motor show in 2004, the 189bhp S2 Exige had as standard almost as much horsepower as the hairy-chested VHPD version of the S1, but with a notable improvement – the dependability of a Toyota-sourced 1.8-litre, four-cylinder, VVTL-i engine. And while it may have lacked the rabid frenzy of the highly tuned old Rover lump, its two-stage power delivery – courtesy of variable valve timing and lift – gave a buzz akin to an old-school turbo coming on-boost.
Search for Lotus Exige for sale on evo cars for sale
With its track-developed chassis and downforce-producing rear wing, the Exige S2 swiftly established itself as a circuit star, eclipsing the Elise and measuring up favourably (particularly when price was thrown into the equation) to exotic versions of the 911. Who could want more?
Yep, you guessed it: pretty much everybody. Including Lotus. The chassis could clearly handle more power, so that's what it got when, in the early part of 2005, Lotus launched the limited-edition – just 50 of them – 240R. A cult machine from the off, the 240R was fitted with a Roots-type intercooled supercharger that hiked the power to 243bhp. It also boasted more hardcore track suspension, brakes and engine auxiliaries. These days, 240Rs rarely come to market, so prices tend to be 'robust'.
In the wake of the 240R, Lotus went through the whole 'If there's enough customer interest we might consider a supercharged production model' charade, but it was no surprise when in late 2005 the supercharged Exige S was introduced. It had 'just' 218bhp and its suspension and brake components weren't as extreme as those of the 240R, but with 0-60mph in 4.1sec and 0-100mph in 10.0sec, you'd have been churlish to complain about the performance. And in terms of soul-searing driving pleasure, there were few rivals.
Choosing which Exige S2 to set your heart on is a little more complicated than deciding between naturally aspirated and forced induction. In the early days, Lotus offered four trim 'packs' – Touring, Super Touring, Sport and Super Sport. But you could mix them up. And you could also opt for the Performance Pack, hiking power and torque to 240R levels. Plus there have been special-edition Exiges galore: Exige Cup, Cup 240, Cup 255, British GT, Club Racer, Cup 260…
For the 2010 model year there was a facelift, together with a power hike for the standard Exige S that lifted its total to 240bhp. It was soon complemented by the 257bhp Cup 260 and, in September 2010, as an appreciative farewell to celebrated Lotus test driver and seasoned engineer Roger Becker, an eponymous special edition cherry-picked from the parts catalogue.
That's still not the end of the multi-faceted Exige picture, though. Lotus Motorsport lured many owners into its parts catalogue; many others were enticed by offerings from aftermarket tuners. So when scoping out a used Exige, check precisely what it's got, and where it all came from – then do a Google search for the opinions and experiences of others. Test drive a handful of Exiges to get a feel for what spec best suits your driving requirements. The majority of owners are fastidious guardians, so if a car seems a bit ropey, wait for the next one.
Patience, however, is a prerequisite in the hunt for your perfect Exige. Comparatively few are for sale at any one time, so finding the right spec in the right colour in the right part of the country could take some time. And that has a bearing on prices… That said, the wait, and the cost, should be worth it.
'I bought one'
Gary Renouf
'I bought the Elise because I wanted to enjoy some topless motoring, but all the while I hankered after the more aggressive looks of the Exige and its superior handling. Early last year I decided to make the swap, and I knew that my Exige would have to be a bright colour. I spotted the car I wanted on Murray Motors' website, did the deal over the phone, and went all the way to Edinburgh to collect it.
'As yet I haven't had the chance to use the Exige on a trackday, but I have done a couple of "activity days", organised by Car Limits at North Weald Airfield, which involve a sprint course and big corners where you can push things to the limit.
'To date there have been only a couple of problems – one of the front oil coolers was damaged and a rear damper leaked. But nothing else has surfaced and the Exige flew through its MoT. It's a fantastic car.'