Honda NSX buying guide
This was the car that forced Ferrari to rethink its whole approach to building supercars – here's what to look for today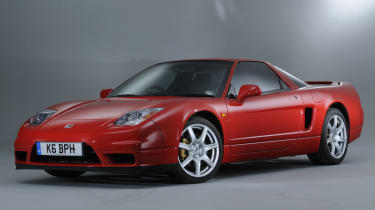 It barely seems credible, but it's 20 years since we first drove the NSX, Honda's remarkable supercar that set out to combine the allure of a Ferrari with the dependable ease of use of a Civic.
In a 15-year production run, the changes were few: a targa-top body option from 1995, when the roof became body-colour instead of black; the transverse, mid-mounted, titanium-conrod V6 engine enlarged from 3.0 to 3.2 litres in 1997 (manual version only, which now got six gears); deletion of pop-up headlamps and, NSX-R excepted, the fixed roof in 2002. And that, bar detail mods, is about it.
An NSX is all about aluminium. It was the first quantity-production car built around an aluminium unibody, and its double wishbones and uprights are also of the lightweight metal. A completed NSX still weighed around 1400kg, but that's quite light by today's obese standards. What is less widely known is that the NSX, in a remarkable case of parallel evolution, embodied many of the ideals Gordon Murray adopted in the McLaren F1, a car whose gestation began before the Honda's was finished.
Several years later, Murray pointed out the common ground. He cited the excellent view out through deep glass and over a low nose, despite the low seating position. He mentioned the usability, the ease of ingress and egress even for tall people, the excellent air-con system hidden away in the nose to keep the dashboard low.
Then there was the suspension, its job helped by using relatively small, light wheels and tyres with compliant sidewalls. The front suspension included a 'compliance link' between the rearward wishbone mounts and the chassis, offering remarkable suppleness with no loss in precision.
It's well known that Ayrton Senna helped develop the NSX, but the nub of its appeal is that it was the first mid-engined semi-supercar built to big-company standards with durability and sophistication to match. Most of its components are unique to the model but they're still engineered to the usual Honda standards. And while it might have looked better with a shorter tail, it does mean you have a very usable boot for touring.
Which NSX to buy? In Japan there were various special editions, but in the UK we just got the standard versions. The original 3.0 came with non-assisted steering, which initially seems slow around the centre but soon wins you over with its accuracy and feel. The four-speed automatic version adopted power steering but was slightly down on bhp. The popular targa loses little in structural stiffness.
With the 3.2 came new electric power steering across the range, a 20bhp power lift to 276bhp, and more torque peaking at a lower speed (a high 5300rpm rather than a very racy 6500rpm). The auto, meanwhile, stayed with 3.0 litres, but slushbox NSXs are pretty rare in the UK. Somehow they rather miss the whole point of the car…
Find used Honda NSX's for sale on the Classic and Performance Car site here.
'I bought one'
Barry Harber - 'At the time the NSX came out I was friendly with my local Honda dealer, and they had a white one in. I was drooling… "Take it for a run," they said, "and don't bend it." I fell in love. I knew that one day I'd have to have one.
'I bought this car in 2006. It's a July 2003 car which had done only 4000 miles from new. I used it as a daily driver to begin with, covering 19,000 miles up and down the country, but after 19 months I realised it was too good to blat around the country. Now it lives in a barn under a cover, but the last two years we've driven it down to Poitiers in France. It gets an amazingly positive reaction wherever we go. Sometimes it's "Like your Ferrari!".
'It's the most undemanding of cars, and not a thing has gone wrong with it. Most Honda garages don't have NSX people any more, but I get it serviced at Norton Way Honda in Letchworth. In the last four years the bills have been £195, £585, £272 and £247. That's not bad for a supercar.'