New Honda Civic Type R revealed in TCR race trim
Dramatic production Civic Type R gets even more crazy in TCR touring car form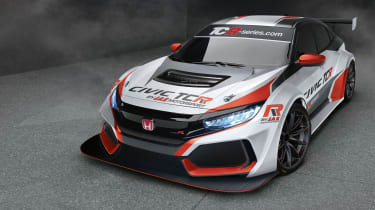 TCR is increasingly becoming one of the more exciting categories in motorsport, with a large range of cars eligible for entry and all based heavily on cars you can actually go out and buy.
If a good road car makes a good racer, then JAS Motorsport's new Honda Civic Type R TCR will be one to watch when it joins the series in 2018. It should build on the success of the outgoing Civic already campaigned by Milan-based JAS, which has been a consistent front-runner in the WTCC, winning that series in 2013.
Unlike modern touring cars, all TCR cars are based heavily on their production equivalents, making use of their standard drivetrains, albeit with modifications taking maximum power up to 330bhp and around 300lb ft of torque.
Manufacturers can actually retain the standard manual or paddleshift transmissions if they wish, though a TCR-sanctioned sequential is also available. TCR regulations restrict weight to 1250kg for cars retaining the production gearbox, with a 35kg penalty for those using the racing 'box.
Brakes, wheels, tyres and aerodynamics can also be changed, while suspension can be upgraded but must retain the production car's layout. That latter point already gets the latest Civic Type R off to a better start than its predecessor, with Honda having moved to independent suspension all-round with the new model.
JAS Motorsport has altered the Civic's already dramatic styling with a new aero kit, comprising wider arches, a shovel-like front splitter and a huge GT wing to replace the Civic's standard two-tier item. The shell also packs the mandatory roll cage for safety, while a new ECU is used to control the Civic's 2-litre turbocharged powerplant.
JAS will even offer an endurance racing package for the car, suitable for the VLN and other endurance series, which comprises ABS, additional lighting, and a driver cooling system. The outfit will begin delivering the new Civic TCR cars on December 15, with the first 25 cars ready for the 2018 racing season.
Those cars will join 19 other TCR models already registered for series all around the world - reinforcing the category's relevance as a racing series. Click here to read our review of the road-going Honda Civic Type R.