Ford Focus ST buying guide
Slightly overshadowed by the RS, the Focus ST is a fast and capable hatch in its own right. Here's all the essential buying information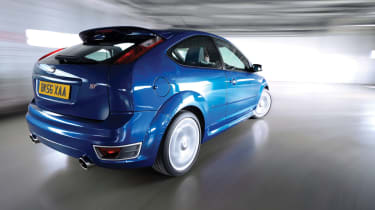 At its launch in 2005, most of us thought of the Ford Focus ST as a Golf GTI alternative with more pace, a sexier sound and a lower price. Since then it has developed a strong following of its own, helped by the arrival four years later of the ST-derived Focus RS. Some of that car's glory has filtered down to the ST, with the result that owners are keener than ever to modify their STs to RS power levels and beyond. Far beyond, in some cases.
There are great thrills to be had by going that route, of course. Great heartbreak if it's an early car, too, as we shall see. But the ST is a highly appealing machine even in Ford's factory form, because it was created by Ford's 'Team RS' (today's version of AVO or SVE) as a proper job.
For a start, it got a 2.5-litre, 222bhp, five-cylinder turbo engine borrowed from Volvo, with 236lb ft of torque from 1600rpm right up to 4000. So it sounded nothing like any Focus before it. Compared with Volvo's version of the engine, the ST motor got variable valve timing for both camshafts, a lighter flywheel and a recalibrated throttle map. And it got a 'sound symposer' in the intake tract, the better to direct the off-beat, five-pot warble into the cabin when you're enjoying the engine's keenness to nudge its 7000rpm limit with the aural edge fully hardened.
Compared with a regular Focus, the ST sat 15mm lower on 30 per cent stiffer springs and suitably recalibrated dampers. There was a strut-brace and the front subframe was made of thicker steel. The rear anti-roll bar was stiffer, creating greater weight transfer across the rear wheels to help counteract the heavier nose, the steering rack's response was speeded up by eight per cent, and the brakes were bigger. All of this on top of what was already probably the best-handling mainstream hatch then on offer.
Then there was the way it looked, most dramatically in the Electric Orange that was the signature launch colour. The standard Mk2 Focus was a bland-looking machine after the Mk1's 'surface entertainment' (as Mk2 designer Chris Bird described it), but the ST remedied that with a bigger front grille sitting above an even more enlarged lower air intake, the latter flanked by aluminium-outlined foglight housings. That motif was repeated at the back, where the bumper grew cartoon-like 'whoosh-lines'.
Inside, huggy Recaro seats could have their bolsters trimmed to match the paintwork, the steering wheel had a thicker rim, the pedals were of rubber-studded aluminium, and a three-dial pack atop the dashboard displayed oil pressure and temperature plus turbo boost. Three trim levels were offered: ST1, 2 and 3, with ESP absent from ST1 until the 2008 facelift with its new nose, curvier tail detailing and generally less-fussy look. The ST3 got full leather trim, with the rear seats shaped for two people only.
That ESP absence is interesting, because it meant the handling had to be absolutely failsafe without it. Some carmakers recalibrate the suspension if ESP is fitted, to allow greater pointability before the system intervenes, but Ford did not. Fans might disagree, but it meant that the ST can feel more ponderous and unreactive to the throttle in a corner than you might expect of a fast Ford. That apart, it's a great if somewhat thirsty drive – made even greater by the Ford-approved Mountune conversion which brings power up to 260bhp. Find one of those if you can.
'I bought one'
MARK BAKER - 'I bought the ST in April 2009 for £11K to replace my VW Corrado, which had done 186,000 miles. I was looking for something large enough to go away for the weekend, comfortable on the motorway for a few hundred miles but still fun to throw down the odd B-road. The ST fits the bill perfectly.
'The car had 21K miles on it when I bought it, is now on 48K and has been totally reliable. The only costs have been regular servicing and a set of tyres, though another set of fronts will be needed soon. I have had the car re-mapped by Dreamscience, which ups the 225bhp to around 270, with much improved responsiveness at the expense of some increased torque-steer. I also fitted a Milltek exhaust, which sounds great and fills the cut-outs in the rear bumper much better. 
'I've no plans to sell the ST. The only downside is fuel economy, which averages about 24mpg but can go as low as 14mpg around town.'
Used Ford Focus ST for sale
There are currently a number of used Ford Focus STs over on Classic and Performance Car. You can check out the full list here below.