Ford Focus RS (mk2) buying guide
The mk2 Focus RS has a fanatical following – not least among tuners, who squeeze as much as 400bhp from its turbo engine.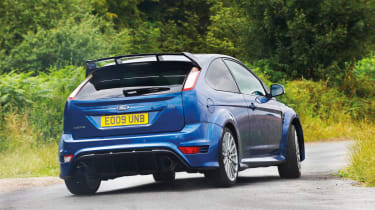 A hot hatch with the visual clout of a Lamborghini: if the mk1 Focus RS had been fairly subtle by fast Ford standards, its successor, launched to a slack-jawed world in January 2009, was an all-out assault on the eyeballs. The barrage began with a small acreage of black mesh grilles, continued through pumped-up bodywork peppered with ducts and vents, and ended with a giant venturi and high-mounted spoiler. For sheer drama, nothing else came close – or has done since.
Ford ratcheted up the effect by offering the RS in just three colours – Ultimate Green, Frozen White and Performance Blue (of which the relatively subtle blue is, perhaps tellingly, the rarest). So perhaps the first thing to know about the mk2 Focus RS is that this is not a car for shrinking violets, nor those who like to make progress discreetly.
But make progress you most assuredly will. The RS backed up its visual promise with a heavily reworked version of the Focus ST's turbocharged 2.5-litre in-line five – bigger turbo, new intercooler, forged crank, silicon-aluminium pistons and graphite-coated bores. The tweaks helped produce a nice round 300bhp at 6500rpm (78bhp up on the ST) and a torque plateau of 324lb ft that stretched all the way from 2300 to 4500rpm.
That lot could have been an unruly handful had the chassis not been thoroughly well-sorted. The RS may not have had the four-wheel drive that many had hoped for, but a combination of Ford's trick RevoKnuckle front suspension, a Quaife limited-slip diff and well-judged ESP did a great job of putting the power down and managing the torque-steer while still providing plenty of involvement. The RS hit 60mph in under 6sec and topped 160mph, all accompanied by a distinctive five-cylinder warble, plenty of turbo chatter and even the occasional pop and bang from the exhausts. And when you weren't on a charge, the RS was a civilised and practical hatchback capable of returning 25-30mpg. No wonder it sold well.
Around 11,500 were built in a production run that lasted a little over three years. Of those, 4000 found homes in the UK, so it's not exactly rare. But prices have held up remarkably well, with only high-mileage examples dropping much below £20K thus far (see 'What To Pay'). 
Spec-wise, Ford offered two option packs. Luxury Pack 1 featured dual-zone climate control, automatic headlights and wipers, rear parking sensors, tyre pressure monitoring, keyless go, DAB radio and a Sony six-disc CD player. Luxury Pack 2 came on top, replacing the hi-fi with a Ford system including a rear-view camera and touch-screen satnav. Air-con was standard on all versions.
When running one as a long-termer, our biggest problem was the engine's refusal to behave itself on light throttle openings. We've spoken to several owners about this and most are in agreement: the engine surges, making the RS hard to drive smoothly. Lugging hard through the mid-range the engine was dynamite, and locked in place by those superb Recaros, with a commanding view of the road ahead (the seats were mounted too high), there was little that could touch the RS's pace along a challenging road. Driving it you had a sense of its barely contained energy, its urgency and explosive delivery. It's utterly, utterly different to the ST, and to answer all the forum debates we've seen, massively faster across the ground, too.
The regular mk2 RS remained essentially unchanged throughout its production run, but the evocatively named RS500 ramped up the performance – and desirability – to a new level upon its launch in April 2010. Limited to 500 units (just 101 of which were allocated to the UK), the RS500 sold out within a week despite its £35,750 list price (an £8K premium over the RS) and remains highly prized today. All 500 of them were finished in a matt black wrap with black alloys and red brake calipers, while the interior featured extra slices of carbon trim and a numbered plaque on the centre console.
Under the bonnet, there was a larger intercooler and airbox, a larger-diameter exhaust downpipe, an uprated fuel pump and recalibrated software – the net result being 345bhp at 6000rpm (up 45bhp on the standard car) and 339lb ft from 2500 to 4500rpm. We also recorded a 0-60mph time of 5.6sec (three-tenths faster than the regular RS).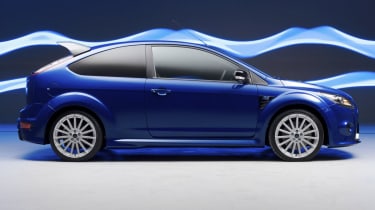 Alongside the RS500 launch, Ford announced a performance upgrade option for the regular RS. The MP350, developed by Team RS and Mountune Performance, was basically the RS500 mechanical upgrade for £1995 (plus fitting). It was available through a network of approved dealers, and crucially kept the factory warranty intact. Of course, for some that would never be enough, and several independent tuners – Graham Goode, JW Racing, Revo and others – were soon offering all manner of upgrades, from remaps to comprehensive mechanical packages, with 400bhp (or more) available if the owner's pockets were deep enough. Mountune itself got in on the act with its MR375 upgrade, although this one wasn't factory-backed. Usefully, the Ford/Volvo lump seems perfectly happy churning out 400bhp or more.
Other popular and well-proven mods include the Elevate engine torque mount, which takes any slop out of the drivetrain, and Mountune's 'Clubsport' suspension. Oh yes, and stainless exhausts from the likes of Milltek and Mongoose – all the better to hear the warble of that famous five…
If the prices here all look a little steep to you, rewinding back to a 2002 fast Ford could be the answer. If you've got strong forearms and don't mind a fight, the Mk1 Focus RS is your perfect hot hatch. Rare, tough-looking and placing an emphasis on agility over raw power, if you can find a cherished example, you can't go wrong. Seems like a bargain at the moment, too, with prices beginning at £7000 – though they're going up.
What we said at the time
Henry Catchpole tested the Focus RS against its toughest challenger back in 2009 - the Renaultsport Megane R26.R. It fared surprisingly well:
'I had worried about bringing an R26.R out to meet the RS. The Mégane goes right to the heart of everything we at evo want, not just in a hot hatch, but in cars, period. There was a good chance that the Ford would simply wilt in the presence of the Renault's lightweight single-mindedness, but the Focus has more than held its own, even exploiting some of the Mégane's few weaknesses, namely its soundtrack and the punch provided by its engine.
'The R26.R is still the king, the better driving tool, so sharp, so precise that you become part of it, yet the harder I went in the RS the bigger my grin grew and the more deeply impressed I became. Not once in the hour-long drive back did I think 'I wish I was in the Mégane'. Nor did I wish that I had four-wheel drive.'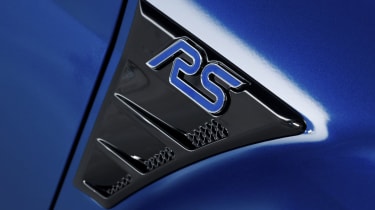 'I bought one'
Neal Harvey - 'I've always had a passion for fast cars – my other car is a Lotus 2-Eleven, and before the RS I owned a couple of Renaultsport Clios. The 200 never really grabbed me like the 182 Cup did, so I decided to sell for a cheap, practical runabout.
I quickly realised the error of my ways and I'd read the reports on the mk2 Focus RS. As it always got five-star reviews, I thought it was worth a look. Conveniently, my local Ford dealer – Hartwell in Kidlington, Oxfordshire – had one for sale: a 2009 RS in Frozen White with Luxury Pack 1 and only 6173 miles on it. I knew I was going to buy it as soon as I saw it: it has real presence in the flesh, so unless the test drive was a disaster, it was a done deal. Needless to say it drove as well as it looked and I picked it up last November.
Since then the car has clocked up a further 7500 miles and it's been faultless. There are very few squeaks and rattles, and nothing's broken or fallen off. My only cost so far has been tyres, with the fronts being replaced at 10,000 miles. It averages about 27mpg on my commute and on a 1000-mile trip to Le Mans it averaged 31mpg – not bad for a practical hatchback with 300bhp!'