Ferrari 599 GTB Fiorano buying guide
A blisteringly quick and capable Ferrari berlinetta with a detuned Enzo engine, the 599 can now be yours for as little as £70k
The 599 replaced the 575 in the summer of 2006 and brought the front-engined V12 Ferrari slap bang into the modern age. Whereas the 550 and 575 always felt like modern classics, the 599 was every inch a new-age Ferrari: all-aluminium chassis, lashings of glossy carbonfibre, F1 SuperFast gearbox, F1-Trac stability and traction control, magnetic semi-active dampers and carbon-ceramic brakes, all wrapped in aggressive, aero-optimised bodywork with minimal overhangs and maximum presence.
Top billing, though, went to the engine – a lightly modified version of the Enzo's 6-litre V12 with a mighty 611bhp at 7600rpm, endowing Ferrari's new series-production flagship with truly sensational performance: 0-60 in 3.5sec, 0-100 in 7.4 and 205mph.
>Find Ferrari 599s for sale on Classic & Performance Car
Though a strict two-seater, the 599 is a big car, more at home on wide, sweeping tarmac than cross-country lanes. Think super-GT rather than super-sports. The upside is a spacious cabin and a very decent boot. Manual 599s are rarer than prancing horse droppings: the F1 paddleshift gearbox may have been a £5.5k option, but around 95 per cent of buyers opted in. Similarly, Brembo carbon-ceramics were officially 'optional' (£11.5k) but few cars were built without them.
In 2008, the HGTE version (another £14k) brought stiffer and lower suspension for tighter body control, though it makes the ride pretty harsh and isn't for everyone. The ultimate evolution came in 2010. The 661bhp 599 GTO was a limited edition road-racer (just 599 built, and only around 80 coming to the UK in right-hand drive). That rarity and the GTO badge mean good examples today command their £300k list price and more.
In fact the regular 599 is more useable – and a genuine bargain. Be under no illusion, though, these are expensive cars to run. But as you'll read, major mechanical problems are rare, and Ferrari's Power Warranty is available until a car is nine years old or has reached 56,000 miles. It can cost as much as £3k a year, depending on what's covered, but for many it's well worth it for peace of mind.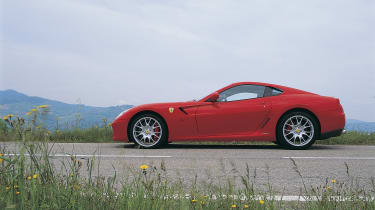 Ferrari 599 GTB driven
'Press the big red "Engine Start" button on the steering wheel and the 6-litre V12 wakes with a boom. A blip of the throttle confirms the Enzo-derived engine has lost none of its aural ferocity, sounding every inch the 611bhp, 448lb ft hyper-GT.
'On warm, dry Italian asphalt, Sport (the third of the five settings on the manettino) is your base setting, as traction isn't an issue through fast, smooth corners, and the Fiorano finds plenty of drive out of tight hairpins.
>Read - A-Z Supercars: Ferrari 599 GTB Fiorano
In Race mode the 599 is allowed to dance that bit closer to the limit, even letting its rear wheels spin a little and its tail slide under power. On a challenging road it's an absolute riot, the car up on tiptoes through fast direction changes.
'When you unleash the Fiorano's full force the shift lights across the top of the steering wheel begin to illuminate and your whole world streams into fast forward. Flat-out in the 599 is an all-consuming experience, each gear delivering a more intense hit than the last. The Veyron may post fiercer figures, but it surely can't match the Fiorano's naturally aspirated immediacy on give-and-take roads' (evo 093)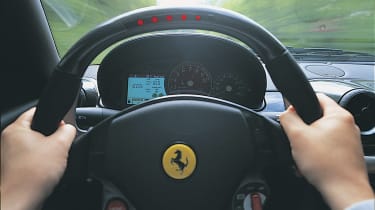 Ferrari 599 GTB owner's review
'Camlet' – 'I'm known as Camlet on PistonHeads – I'm not a celebrity or anything, I just prefer not to have my name out there. I bought my GTB in March 2007, new, and kept it until four months ago.
'Because it's a big car, I went for Grigio Silverstone – I'd seen a GTB in Silverstone in evo and thought it was just beautiful. I also specced the F1 'box and the ceramic discs. I was told if you didn't then you might never see your car! But to me the 599 was clearly designed to have them, and in practice they both worked perfectly, no problems at all. In fact the car never missed a beat. The only downsides I found are the fuel consumption – on a long trip you seriously have to plan fuel stops – and you have to keep the battery topped up; if it drops charge you can get all sorts of electrical niggles.
'When I sold the car it had covered 13,000 miles. The GTB was the perfect mix for me – not as smooth as an Aston but not as raucous as a Lamborghini. A fantastic, ultimate GT car. Bags of room for two and their luggage. The GTB can just waft along, cope with Baker Street in the middle of summer with tons of traffic, almost Germanic-like. And in a nanosecond you can flick the switch and out bursts this 600bhp-plus supercar. Amazing machine.'