Photographing a land speed record breaker – evo archive
Former evo staff photographer Andy Morgan recalls a momentous shoot early in his evo tenure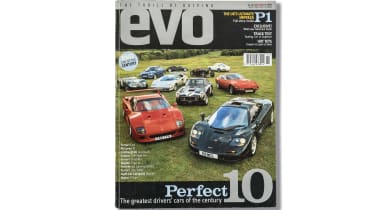 Issue 013. Lucky for some. This remains one of my favourite issues of evo – I remember buying it and being transfixed by the cover, which has one of the greatest groups of cars ever assembled in a field. Your eyes meander from Type 51 Bugatti to 22B to McLaren F1 via 250 SWB and 2.7 RS with a detour by way of a Rocket and an F40, each one picked as someone's choice for the best way to use a final gallon of fuel. It was all to celebrate evo's first year of existence. To think some people settle for cake and a candle.
But there was another remarkable shot in that issue, this time on page 101. It shows a driver's eye view from the seat of a car, but a car with a speedometer that reads all the way to 1000mph and two dials indicting 'jet nozzle position'. The image was taken by a very young Andy Morgan, then just three issues into his long tenure as evo's staff photographer, and shooting the whole set of photos for that feature on LSR cars remains one of his most treasured memories.
'I had to go down to the National Motor Museum at Beaulieu,' recalls Morgan, 'and this lovely chap who was the curator said: "There's no one about this morning, so you've got the place to yourself." I was under the impression that I would just be standing on a stepladder trying to take the shots of the various land speed record cars that I was there to photograph. Then as we were standing next to the first one, I'm pretty sure it was the Sunbeam, he said: "Well, in you get."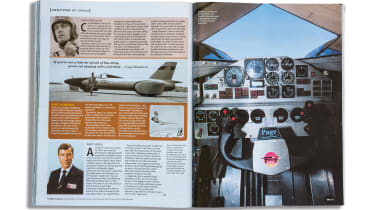 'I remember thinking: "This can't be real, this is crazy." Anyway, I got in, took the picture and then moved on to the next one, and the next, and the next. I can remember the distinctive aroma of the cockpits. It's not the smell of fear, which it probably should be, but the smell of old aeroplanes. Which makes sense, of course, because so much in them is aviation-derived. I remember them being really tinny as well, which is quite worrying. And you can't see anything! How they ever drove them is mind-boggling.'
But the big shot was still to come. 'I had to drive somewhere else to photograph Thrust SSC, which had raised the land speed record to a supersonic 763mph only a coupe of years earlier. It was being readied for a show and was sitting under a marquee, all 54ft of it. I had to climb up on top and straddle the fuselage, so it was like I was riding a horse, except I kept hitting my head on the marquee, which meant I couldn't actually physically get into position.
'And then, just like the chap at Beaulieu, they said: "Do you want to get in it?" Well, I tried, but I couldn't because I was just too big and lanky, plus I wouldn't have been able to wield the camera to get the shot. So, the only solution was to lie on the fuselage backwards, dangling into the cockpit whilst they held my feet and I took the picture upside down! I had no idea whether I'd got the shot or not because it was all on film.'
Of course, Andy did get the shot and it was printed over a full page of the magazine, giving a wonderful glimpse into another Andy's (Green) office where the RAF squadron leader famously applied opposite lock at 620mph.
'It was a pretty random thing to do in my first few weeks at evo,' laughs Morgan, 'but I've never photographed a faster car since.'