Lost spectacles and a Lamborghini Aventador Roadster – evo Archive
The loss of his glasses should have been a disaster for severely myopic photographer Dean Smith, but somehow he still got the job done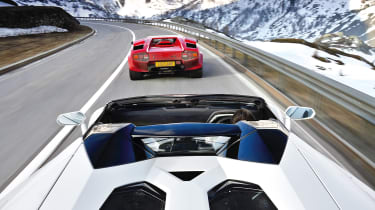 'If you wear my glasses' says Dean Smith, handing me a pair of black-framed spectacles, 'that'll give you an idea of how blind I am without them.' I duly pop them on the bridge of my nose and instantly feel like I'm both drunk and developing a hangover at the same time. I whip them off again before the headache blossoms any further.
'See?' says Dean. I can't work out if he's being funny. 'I can't read any text without them. It's just colours.'
All of which brings us to an autoroute somewhere in northern France back in the summer of 2013. Jethro Bovingdon, Harry Metcalfe and Dean are all heading down to Milan for the start of  Lamborghini's 50th birthday Grand Tour, which Harry is due to take part in. Jethro and Dean are in an Aventador Roadster while Harry is in his Countach. At this point in the trip there are other Lamborghini owners with them too.
> Lamborghini Countach LPI 800-4 pictured on the road
Dean takes up the story again: 'Jethro says, "Everyone's in a convoy, why don't you take some pics?" So, wary that we're doing an unprintable speed, I put the camera to my face, pop up above the roofline of the roadster, turn around and take a load of terrible photos that never get used. Then, as I reverse-engineer the manoeuvre to get back into the passenger seat, I take the camera away from my face and… vroooff!'
'What?'
'Vroooff!'
'?'
'My glasses fly off.'
'Ah.'
'Gone. Whipped away by an unprintable slipstream. And now Jethro can barely see either because he thinks this is so funny that he's crying with laughter. We pull into a lay-by about 2 kilometres down the road just before a toll and then Jethro and I walk back up the hard shoulder to look for the glasses.'
'But you're blind?'
'Yes.'
'Are you hoping to hear the lost spectacles?'
'Look, it seemed like a good idea. Anyway, everyone driving past is apparently calling the gendarmes saying there are two madmen walking alongside the motorway. Jethro then gives up and goes back to the Aventador…'
'Hang on, so he abandons a blind man by the motorway?'
'Well, yes. Now you mention it, that does seem odd. But the police then came along and asked what on earth I thought I was doing, so I told them. They didn't believe me. And they believed me even less when I said there were two Lamborghinis just down the road waiting for me. But the joke was on them when they drove me down to the toll booths.
'Trouble was, I then had to take photos without my glasses for the next two days, and that involved a lot of instinct mixed with guesswork. Jethro still maintains that it's the best shoot I've ever done.' (You can judge for yourself in issue 184.)
'How did you even know what you were looking at?'
'Well, there was always a chance that I was taking photos of random white and red car shapes, but for the cornering shots I knew it must be Jethro approaching because nobody else would be stupid enough to drive that quickly at the corner making that much noise.
'The final ignominy was that when it was time to fly home, I had to be escorted through the airport by the staff because I couldn't read the signs or find the check-in desk. I tend to take two pairs of glasses with me on shoots these days.'