A trip to Ari Vatanen's chateaux – evo Archive
A quiet spot during eCoty 2013 gave Henry Catchpole the opportunity to meet one of his heroes...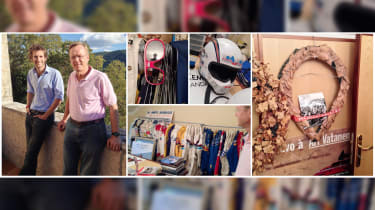 Hammering down the Route Napoléon in an Audi R8 V10 Plus would normally be pretty much the best thing about any day. I can still remember the way it took the fast, sweeping corners with an impeccable balance. I can feel the way it went light as it got a bit of air over a bridge and then soaked up the landing with the nonchalance of a cat. I can recall the warm afternoon air ripping past the open window and the sound of the naturally aspirated 5.2 litres scaling up and down its rev range. Perfect. Or at least good enough for fifth place on my score sheet at the end of eCoty 2013.
Perhaps I can also remember the details so clearly because going for a long, evaluating test drive was the excuse that I gave for absenting myself from the rigours of an eCoty photo shoot for a few hours one afternoon. It was genuinely part of the reason. But only a small part. The real reason was that Mike Duff, evo's then motoring editor, had said he was going to pop over and see Ari Vatanen. And I'm very much of the opinion that you should meet your heroes if at all possible.
Mike had interviewed the 1981 World Rally Champion a couple of times but only via Skype. However, the four-time Paris-Dakar winner lives not far from the N85 so Mike had invited him to join us on eCoty if he was free. The Member of the European Parliament had very politely declined but said Mike should drop by for coffee if he had the time. Mike had mentioned all this to me and I had suggested that he might need a co-driver in order to locate the Vatanen residence. And so, one afternoon when there seemed to be a lull, we took the R8 for a bit of a drive.
> 2022 hybrid-era WRC championship ready for launch
When we arrived, Vatanen was seeing some men about some security lighting, but he implored us to wait, so we did. The house was a bit like a large old farmhouse crossed with a small chateaux and there seemed to be dogs everywhere. 
Then, lighting sorted, the very down-to-earth Vatanen made us coffee and we sat outside in the sunshine eating meringues. I remember that he was off to Finland the following day, but he was relaxed not rushed. We spent probably a couple of hours chatting about not just rallying old and new (his favourite car was the Peugeot 205 T16 and he thought rallying was more of an art back when he was driving compared to today) but also his family, farming, his work as an MEP and just the general state of the world. He is one of those people who is fascinatingly philosophical and his considered, measured outlook on a whole range of subjects is perhaps not what you'd expect if you'd only seen footage of him massively, flamboyantly sideways in an Escort Mk2. I still think it's a real shame that he didn't become president of the FIA.
After coffee, almost bashfully, he suggested we might like to see the room where he had all his memorabilia tucked out of the way. A desiccated wreath here, a Simpson helmet there. A pair of red Carrera sunglasses from sponsor Marlboro and racks of overalls with Peugeot and Rothmans stripes. Trophies, books and Finnish flags everywhere. Enough for a small museum all crammed into a room not much bigger than a cupboard.
Before we left he gave us each a bottle of red wine from the last Vatanen vintage ever produced (2007) and asked if we would sign the visitors' book. It all seemed the wrong way round somehow, and I remember driving back – using my hand to briefly shield my eyes from the sun – slightly unsure as to whether I was about to wake up.
A 911 won eCoty, of course.