VW Scirocco buying guide
Quick, stylish, practical and reliable, the Volkswagen Scirocco makes perfect sense as a used buy. Here's what to look out for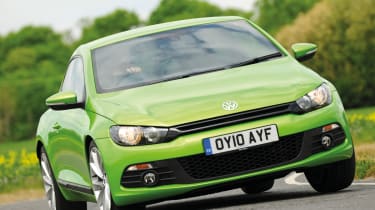 The first hint that VW was about to revive the Scirocco name, not seen on a new car since the early 1990s, came with the IROC concept at the 2006 Paris show ('iroc' from the middle four letters of Scirocco). IROC introduced the idea of a long-roofed, hatch-style coupe, the extended roofline giving it extra interior space and practicality compared with rivals. And in late 2008 it made it into production with only small visible changes.
Loosely based on the mk5 Golf GTI, it was longer, wider and almost 100mm lower, with a wider track front and rear, and retuned suspension. There are diesels and 'twin-charged' 1.4s, but we're focusing here on the 2-litre turbo petrol versions, and by far the most numerous is the regular GT 2.0 TSI. This had 197bhp at launch, rising to 207bhp from November 2009, and came with a six-speed manual gearbox, with the popular option of a six-speed DSG paddle-shifter.
Quicker still was the 261bhp R model, launched in January 2010. As well as the extra power, it had lowered and stiffened suspension, the XDS electronic diff, revised ACC (Active Chassis Control) damping and a whole raft of cosmetic enhancements (for the full spec and year-by-year changes go to sciroccocentral.co.uk/roccopedia). The R was genuinely rapid and, just like the GT, when you weren't in the mood it was a refined and comfortable mile-muncher too.
Almost five years on, both are proving well-built, and they're developing an enthusiastic following too, with two knowledgeable online communities. You'll be lucky to find any real bargains, but there's a good reason why the Scirocco holds its value. It's a damned good car.
'I bought one'
Lee Chung - 'I ordered my Scirocco R in October 2009 through Vindis Bedford. At the time I was driving a mk5 Golf GTI. The car arrived in February 2010 and it's now done 34,000 miles.
The engine has been fantastic and trouble-free. It started to free up very nicely after about 5000 miles and its first trip to the Nürburgring! I've had no excess oil usage. It's had a remap and is currently producing 330bhp and 340lb ft. It's got a manual gearbox – still good after three years, with no play, though I did have the clutch upgraded.
The R's standard brakes are excellent for the road, though maybe slightly over-servoed at the top of the pedal. I've upgraded to an AP Racing four-piston set-up with 330mm discs – the standard brakes can start to fade with heavy track work. I've also had my car lowered with H&R springs. Tyre wear has been good considering the power increase and the trackdays – it's currently on its third set.
The R's standard xenon headlights are excellent, though you do get flashed by drivers thinking you're on full beam. One negative is the frameless side windows, which freeze to the rubber seal in really cold weather.'