£10K V8 saloons
Despite high fuel prices, driving a V8-engined super-saloon can still make economic sense – if you convert it to run on LPG. So that's what we're going to do, but first we need a car…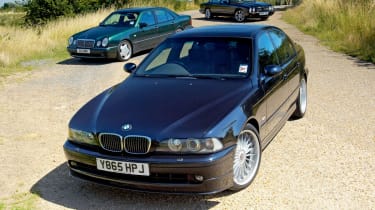 Credit crunch, soaring inflation and spiralling fuel costs – the doom and gloom smacks you in the face every time you watch the news or open a paper. And apparently it's only going to get worse. So stay indoors, batten down the hatches and, whatever you do, don't drive your car.
Here at Evo Towers we're looking at things a little differently. Rather than getting swept along on all the media hype, we're responding to the problem in a more pragmatic way – with a new addition to our long-term fleet.
As we'll be paying for and running this car out of the evo coffers, a big, muscle-bound saloon may not seem like the wisest choice. Certainly, with a budget of around ten grand we should have no problem bagging something desirable – all the financial brouhaha has made sure these motors are not exactly in high demand, so there are some seriously good bargains to be had. Trouble is, the reason they're cheap is that they drink fuel, and with super-unleaded prices currently standing at around £5.50 a gallon, getting our plan past the holders of the purse-strings has required a little lateral thinking.
The answer, we reckon, can be found in the letters L, P and G – Liquefied Petroleum Gas. At around 60p per litre there's an obvious saving to be made at the pumps for a car converted to take the stuff, and even though running on LPG results in slightly lower mpg figures than when running on petrol (converted cars have two tanks, allowing either LPG or petrol to be used), our overall fuel bill should still be cut by at least 40 per cent, potentially making the car we buy one of the most cost-effective on the fleet.
Better still, if we can find a car registered before March 2001 we'll avoid the proposed hike in road tax that's set to hit cars like these from next year.
Is it really that simple, though? How easy will it be to find LPG pumps? And will performance be affected? These are questions we hope to answer in the coming months, and before that we'll look at the process of getting our car converted, which will cost around £2000.
First, though, we have to decide what our new long-termer will be, and after an office discussion (some might have called it an argument) we narrowed the choices down to just three models: Jaguar XJR, Alpina B10 and Mercedes-Benz E55 AMG. All we have to do now is drive them, find out about any potential mechanical pitfalls and pick a winner…
Extra Info