VW Polo GTI R5 uncovered ahead of rally debut in 2018
Here's our first look at the Volkswagen Polo GTI R5 as testing continues for the junior rally car.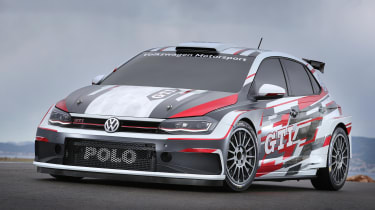 The Volkswagen Polo GTI R5 has been revealed for the first time in Mallorca following a series of sketches that had previously teased the new VW rally car. The R5 will be run by customer teams as opposed to a factory works outfit, with VW having last entered the WRC back in 2016.  
At the launch, Volkswagen Motorsport Director Sven Smeets was keen to point out the R5's ties with the forthcoming, sixth-generation VW Polo GTI saying that, "the close relationship to the road-going Polo GTI is unmistakable." The team behind the R5 includes personnel who developed the dominant Volkswagen Polo WRC R that collected four consecutive WRC titles with Sebastien Ogier at the wheel between 2013-2016.
> Click here to read up about the new VW Polo GTI
Oiger's race engineer from that period, Jan de Jongh, and VW Motorsport Technical Director, François-Xavier Demaison, have taken lead on the Polo GTI R5 project. Speaking about progress thus far, Demaison said: "The Polo GTI R5 came through the initial tests without any problems. The feedback from the test drivers was very positive." "It is obviously beneficial to be able to call upon an experienced team of engineers and mechanics, who helped to develop the Polo that won the world championship.
Like the new VW Polo GTI, the R5 will run a turbocharged four-cylinder engine, but it will displace 1.6 litres rather than the 2 litres of the production car to conform to R5 regulations. In spite of the lower capacity it boasts a more power than the 197bhp road car, producing 268bhp and 295lb ft of torque. This is then channeled to all four-wheels – permanently – through a five-speed sequential transmission. VW claims that the 1,320kg R5 can sprint from 0-62mph in 4.1 seconds.
VW has yet to name its price for the Polo GTI R5, which will be put through the final stages of testing before deliveries to customer teams begin in 2018. The car is expected to enter competition for the first time in the second half of the year.