Volkswagen Beetle GRC – the world's fastest Beetle
Andretti Autosport fields 553bhp GRC Beetle for 2015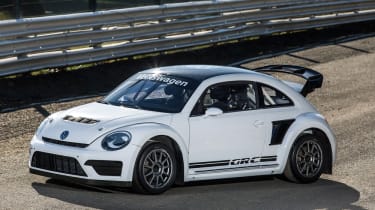 America's Andretti Autosport has revealed the technical specification for its 2015 Global Rallycross car, two examples of which are set to compete at eight purpose-built tracks across the US this season. Andretti's Volkswagen Beetle GRC will be powered by a turbocharged 2-litre four-cylinder TSI engine that produces 553bhp at 7800rpm and 465lb ft of torque at 5000rpm.
This represents a growth of 9bhp and 78lb ft compared with the team's 2014 challengers, which utilised power from smaller 1.6-litre TSI units. The new car's extra power and torque will substantially improve acceleration and off-the-line launches, which are notoriously savage in rallycross, with cars often capable of charging from 0 to 60mph in under 2sec.
A major contributor to this rapid acceleration is the car's short-ratio six-speed sequential gearbox, which drives a fixed-ratio all-wheel-drive system with multiplate limited-slip differentials on both axles. The short gearing means top speed is usually limited to around 125mph, depending on the setup.
Andretti Autosport has been able to switch to the more powerful drivetrain thanks to rule changes that mean the US-based GRC racers share more technical resemblance with FIA World Rallycross cars.
The GRC Beetles, which are purpose built from the off as rallycross racers, use strut suspension with ZF dampers capable of 9.5 inches of travel.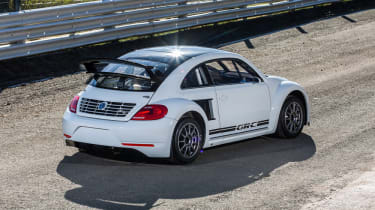 Stopping power comes from 14-inch front and 11.8-inch rear ventilated disc brakes, with four-piston aluminium callipers. Surrounding these are 17-inch Speedline wheels, wrapped in 240mm-wide Yokohama competition rubber.
The steel-bodied car weighs just 1300kg, resulting in a substantial power-to-weight figure of 432bhp/ton – just 3 points shy of a Ferrari 458 Speciale (which of course features significantly longer gear ratios).
Ensuring the Andretti Beetles look as menacing as the spec sheet suggests are large rear wings, wide arches and carbon body trim. The team's 2015 livery is yet to be revealed.
'We are very much looking forward to the start of the GRC season with the Beetle,' comments Jost Capito, motorsport director, Volkswagen. 'The 2015 Beetle GRC has been further developed, based on all our experience we gained with the brand new Beetle last year. We are looking forward to a serious title challenge with Scott Speed and Tanner Foust in 2015 and we are sure that the Beetles will be real fan favourites again.'
Andretti Autosport's drivers, the aforementioned Scott Speed and Tanner Foust, will race at the opening 2015 GRC round on May 31 at Florida's Fort Lauderdale circuit. While the championship is only based within the US, the growth in rallycross's global popularity means it's becoming an increasingly interesting arena for manufacturers to showcase racing versions of their road cars.