Opel Omega V8 – dead on arrival
​​It would have been the understated successor to the Lotus Carlton, if only it could've stayed cool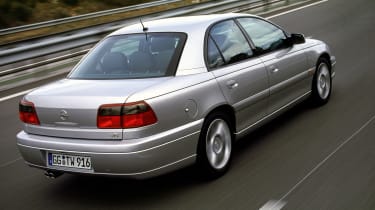 ​The Lotus Carlton may be a hero car today, but it was not an unqualified success in its time. Its bespoke engineering was expensive, not least the engine rebuild that gave it new pistons, conrods and crank plus a pair of turbochargers. The car's overall assembly process was complicated, too, involving completed Carlton 3000GSis being shipped from Germany to the UK so Lotus could dismantle them, rework their straight sixes, snip out their wheelarches, widen their transmission tunnels, and give them a retrim.
And while a 377bhp saloon might have made headlines, much of the coverage was negative, accusing GM of being irresponsible for selling such a car. Indeed, the furore became so great that the Carlton was namechecked in a parliamentary debate on road safety, during which Alex Carlile, Lib Dem MP for Montgomeryshire, declared that it 'should not be available for public purchase'. The honourable member shouldn't have worried so much because in the end just 286 Lotus Carltons were sold in Britain. 
In Germany, however, Opel shifted more Lotus Omegas and attracted fewer negative headlines, which might explain why the company had an appetite for a higher performance version of the new-generation Omega launched in 1994. What it didn't want was the complexity and expense of the controversial Lotus. So, rather than creating a made-to-measure modified engine, Opel went to GM's global parts cupboard, pulled out an off-the-shelf 5.7-litre LS1 V8 as used in the Corvette, and with minimal wrangling, and therefore relatively minimal cost, dropped the big American engine into the Omega's engine bay, bringing with it 311 rumbly horsepower.
This being near the dawn of the 21st century, extended arches and an attention-grabbing wing in the style of the Lotus were considered passé, so the V8 Omega would have an understated design that, to all but sharp-eyed car spotters, would make it identical to the four-cylinder diesel version. 
Development work on this low-budget, low-visibility muscle car was carried out with a fleet of V8-equipped saloons, but the engine was also installed in some Omega estates, and this configuration was considered amusing enough to make for a one-off taster car, the V8.com concept, which was shown at the 1999 Frankfurt motor show and featured various bits of mobile office tech, including touchscreens in the front seat backs and built-in video conferencing.
A few months later, at the Geneva show in March 2000, a production version of the Omega V8 was announced, the press bumf boasting of special spring and damper settings, an impressive 51/49 front-to-rear weight distribution, a 0-62 time of 'under seven seconds' and a limited top speed of 155mph. With only a different grille, darkened tail lights and an easily removed V8 badge on the back, this Omega looked as if it would be a very handy Q-car when it went on sale in late 2000. 
Unfortunately, soon afterwards Opel quietly announced that the Omega V8 would not go on sale later in 2000, or indeed ever. Officially, lack of interest had forced the change of heart. Unofficially, engineers were not happy with the LS1's ability to withstand long periods of full-throttle running, conditions unlikely in its American homeland but common in cars that plied the autobahns. With no money in the budget for re-engineering, the simplest course of action was to kill the whole thing before it went on sale.
Some 30-odd cars were used in developing this ill-fated project and all seem to have been crushed. But if you really want an LS-powered Omega a few people have home-made them since, or you could buy a '99-'08 Holden Commodore, which was based on the same platform and available with an LS1 from the factory.