Vauxhall VXR: Monaro and Vectra VXR power hiked up
A huge performance power boost and a price reduction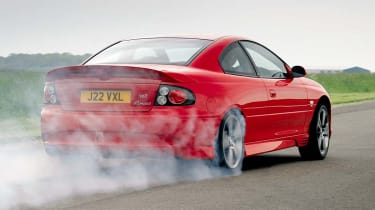 Power up from 398bhp to 493bhp, price down a grand to £35,995 – that's the Monaro VXR's generous swansong. And at the same time Vauxhall has announced a power boost for the Vectra VXR, raising the peak from 251bhp to 276bhp.
The Monaro's big hike is thanks to a supercharger conversion being carried out exclusively by dealer Greens Vauxhall (01634 246755) that also raises peak torque, from 391 to 499lb ft. Vauxhall itself has experience of a similar conversion, which is why it has given the project factory approval.
However, the factory does recommend that with the £1000 you save over the retail price of the standard car (Greens buys the Monaro in quantity and qualifies for a discount) you buy brake and suspension upgrade kits for your limited-edition VXR 500.
At the time of the Vectra VXR's launch it was hinted that the engine had more power to give, but it seems that the settings of the 'IDS Plus2' chassis-control system might not have been up to the task. Now it has been retuned, the 2.8-litre turbo V6 has a new induction system, modified internals and remapped engine management to give that 276bhp.