Tesla, US authorities investigating first fatality under autonomous Autopilot system
Fatality is first in 130 million autonomous miles - but is sure to prompt concerns about the abilities of such systems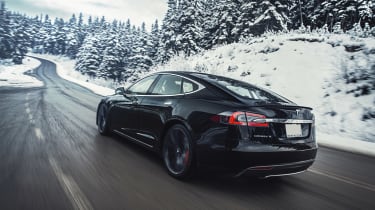 The National Highway Traffic Safety Association – an American government branch that writes and enforces federal safety standards – has opened preliminary investigations into a crash in which a driver was killed using Tesla's Autopilot autonomous-driving system.
It's the first known fatality of an occupant using the system and is sure to prompt a deeper look into how such autonomous functions are used – particularly as autonomous and semi-autonomous systems are increasingly seen as the future of day-to-day driving.
According to a statement on Tesla's blog, the accident was caused by a heavy goods vehicle driving across the path of the driver's Tesla Model S, unnoticed by either the driver nor the Autopilot system.
The cameras were unable to identify the white side of the trailer against a bright sky so didn't apply the brakes, and due to the high sides of the trailer the Model S passed partly underneath.
Further details are unclear at this stage – including why the vehicle's other detection systems, including radar, were unable to pick up the lorry's presence.
The company has stressed – as it always has for the Autopilot system – that the technology remains in its public beta phase and is still considered an assist feature, rather than a fully autonomous drive mode.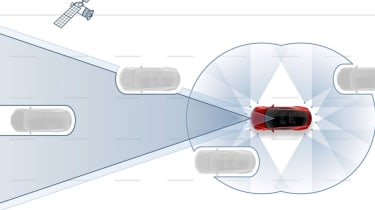 As a result, drivers using the system are presented a warning when they activate it, that they must keep their hands on the steering wheel 'at all times' and be prepared to take over 'at any time'. Should a driver fail to keep their hands on the wheel, the car will gradually slow down until a 'hands-on' state is detected.
Tesla has also attempted to play down any safety issues inherent to the system, noting that it's the first known fatality in 130 million miles of autonomous driving – compared to an average of 94 million miles among all vehicles in the United States and 60 million miles worldwide.
Nevertheless, it's sure to lead to greater emphasis on Tesla's part that drivers using Autopilot must be ready to take control at any time – as well as continual software improvements to ensure that the car can still recognise potential dangers even in extreme circumstances.
We'd also expect existing autonomous driving laws – which, like the technology, are still in a very early state of development – to place more emphasis on drivers maintaining control until the technology itself has advanced sufficiently. There's little doubt that many drivers are still more fallible than the tech, but like any new function, autonomous driving capabilities will come under increasing scrutiny before they're ready for the mainstream.
Tesla founder and CEO Elon Musk has joined his company in extending condolences to the driver's family and friends.