Subaru BRZ Cosworth Stage 2 Power Pack
Cosworth announces the arrival of its second stage performance boosting Subaru BRZ Power Pack with a new video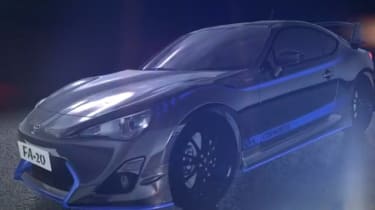 Remember the Power Packs Cosworth previewed for the FA-20 engine found in the Subaru BRZ, Toyota GT86 and their US equivalent, the Scion FT-S? Well the British engineering firm has just confirmed the details of the second stage pack, capable of boosting power to around 280bhp at 7000rpm and torque to 226lb ft at 5300rpm.
That's thanks to the fitment of a new freer breathing manifold, an intercooler and positive displacement supercharger, which has been matched with an ECU remap to boost power across the rev range. That should see the standard car's 7.5sec dash from 0-60 shortened substantially, with the top speed also growing beyond the stock 140mph. We wouldn't be surprised to see a Stage 2 Cosworth BRZ/GT86 snapping at the tails of proper sports cars like the Porsche Boxster (which can reach 60 in 5.4sec and tops out at 164mph).
For those who are looking for just a small increase in performance (or perhaps don't want to fork out for the full supercharged option), Cosworth also offers mods in a Stage 1 state of tune. Buyers can choose from three levels, ranging between 1 and 1.3, which add a series of mods that begin with a high-flow panel air filter and low-temperature thermostat, before adding a cat-back and mid-pipe exhaust with integrated Helmholtz resonator for freer gas flow and a sportier tone. The final level for Stage 1 tuning adds a lightweight, thermal barrier coated exhaust manifold that, when combined with the Stage 1 remap, can push peak power to 230bhp.
Though further mods haven't been launched, there are strong suggestions that suspension upgrades will be included in a forthcoming upgrades list. The exterior could also receive Cosworth mods, including a large rear spoiler, decals and Cosworth badges.
The British motorsport and engineering firm has a long illustrious history of providing components and solutions to both racing teams and performance cars, so there's little doubt its work with the 'Toyobaru' GT86/BRZ will result in a very capable product.
The price for the full Stage 1 Power Pack is £1995 + VAT, with Stage 2's price set to be confirmed at SEMA this month. We'll update here when it's announced. In the meantime, enjoy Cosworth's flashy Stage 2 promo video below...