Renault Megane Coupe Cabriolet 2014 update
Renault has released details of the facelifted Megane Coupe Cabriolet, which follows the rest of the range. Pictures and details here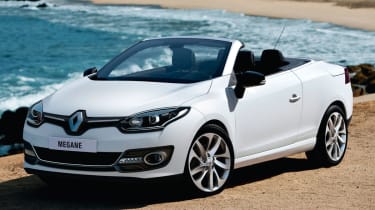 Following on from the official facelift of the Megane range recently, Renault has also announced that the Coupe Cabriolet model will also be getting the revised front-end treatment.
Like the other models in the Megane range, the Coupe Cabriolet gets a new front end, more in keeping with newer Renaults, such as the Clio and Captur. Other changes to the car include the fitment of Renault's R-Link multimedia system, across all models as standard.
Currently the Megane CC is offered with a 1.2-litre TCe petrol engine, or the more frugal 1.5 and 1.6-litre diesel engines, which Renault has confirmed will stay the same for the updated model. Since it was launched in 2012, the Megane also boasts the largest panoramic folding glass roof in its class.
UK prices are yet to be announced, but are unlikely to change much from the current model's starting price of £23,295. Set to be unveiled at the Brussels motor show in January, UK sales are expected to start in March.