K-Tec Racing 300bhp RenaultSport Megane
A new K-Tec ECU upgrade for the Megane 265 Trophy takes the potent hot-hatch past the 300bhp barrier.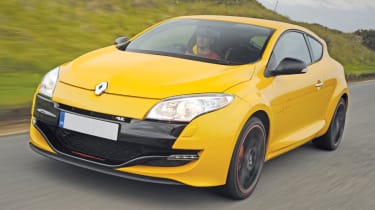 Renault tuning specialist K-Tec has released details of its new 300bhp ECU upgrade for the RenaultSport Megane 265 Trophy, called 'Performance Pack 1'. All-in, the upgrade will cost £414 – including the 12 month or 30,000 mile warranty, and is also available for the older Megane 250.
The upgrade has been developed in-house by K-Tec, and provides power gains from 2000rpm right up to the 6700rpm limiter. The torque output is also significantly higher, increasing by 60lb ft to 325lb ft at 2750rpm.
Other than the ECU remap, the only other modification is an upgraded panel air filter, as the standard item was slightly too restrictive for the higher bhp figures.
Available now, the upgrade can also be specified with the optional 'Renflash' ECU remapping tool. This allows the owner to switch back to the car's standard ECU file easily, for an additional £234.