'The new Renault Megane Trophy-R deserves to be celebrated, however much it costs'
Why am I smitten? Because it's a car conceived and created by engineers and racers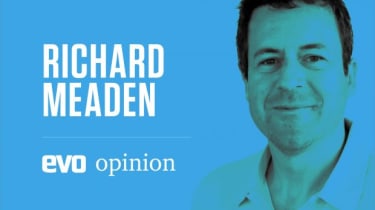 Can we discuss the Renault Mégane RS Trophy-R? Not how it drives. At least not yet, as it'll be a few more weeks before I get to try it for myself. Rather I'd like to try to understand the outrage at its fully specced asking price.
Now don't get me wrong. I am absolutely not in a league where I can drop £72k (or indeed the base price of £51k) on anything at the moment, but in this line of work I'd be limited on subject matter if I restricted myself to driving and writing about the things I could afford. And yet much against what seems to be the majority view, I struggle to think of a new car I'd rather own than the Trophy-R.
> 2019 Renault Megane Trophy R review - is Renault's record breaker worth its price tag?
Whichever way you slice it, the Trophy-R is a truly exceptional and extraordinary project. For starters, it comes not from some independent tuner, but from a manufacturer. And while its primary objective was to reclaim front-wheel-drive bragging rights at the Nürburgring, the T-R is not a thinly disguised race car but a thoroughly developed production road car. Albeit one limited to 500 units, just 32 of which are coming to the UK.
I suppose it's inevitable that a £72k hatchback grabs headlines due to its price, yet far from blanching at a Mégane having the scope to cost as much as a new Cayman GT4, I'm more upset at learning the up-front cost of pre-ordering the carbon wheels and brakes, which compounded by the fear (misplaced in my opinion) of being lumbered with dozens of unsold sets means Renault has enough goodies for just 30 of the cars to come equipped in full Carbon Ceramic Pack spec. One of those being the UK press car. Phew!
Maybe humble beginnings mean a hatchback should not or cannot carry an asking price more readily attached to cars of more noble bloodstock. But why? Surely any car-savvy person can see what's gone into the car and the level to which the work has to be done just to satisfy the onerous product liability and durability requirements that go hand in hand with it being a factory-built car.
Why am I totally smitten by the Trophy-R? Fundamentally because it is a car conceived and created by engineers and racers. Of course there's a marketing angle, but it comes as a byproduct of the car's ethos and achievements, not driven by some vacuous puff concocted in a creative agency's swanky office.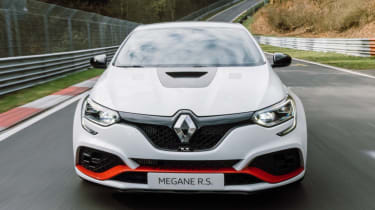 Marketeers don't sign off carbonfibre wheel options that cost the best part of £12,000 a set and are made in Australia at the glacial rate of two wheels per day. Nor do they sanction commissioning Brembo to make tiny numbers of ferociously expensive carbon discs (though they might have a crisis of confidence and limit the quantity ordered), just as they don't tend to engage F1 World Championship-winning aerodynamicists to work their CFD voodoo on the cooling and underfloor airflow of a humble hot hatch.
Truth be told, given the largely unchecked nature of Nürburgring production lap records there are far easier ways to grab a bit of Green Hell glory. Cook up a few sets of hooky tyres. Crank a bit more boost into the motor. Run race fuel, not pump fuel. Sadly, without official independent scrutiny the kudos of a Ring record is anybody's to plunder by fair means or foul. Renault Sport has done it the hard way, adding lightness being the most exacting and expensive route to performance enhancement you can take. Viewed from any perspective other than that of a racing department, the individual gains won from highly specialised components made from exotic materials cannot justify their eye-watering expense. Yet if you can summon the courage to commit to all of the above and more, you create something magnificent.
Similarly, it's hard to imagine another mainstream manufacturer going so far as developing a new, lightweight beam axle to replace the fancy 4Control four-wheel-steer multi-link set-up of the regular RS models. Such 'anti-marketing' risks undermining the message around your own series production cars, but it was deemed a risk worth taking when the upside is saving a further 32kg, shaving a few more tenths of a second per mile around the Ring and creating a halo model beyond compare.
We rightly revere the work of Porsche's Andreas Preuninger and the GT models he and his team shape. Likewise, we pay homage to homologation specials such as the E30 M3 and Integrale Evo, even though they were exercises in creating latent potential for race and rally teams to exploit, rather than offering road cars that could deliver race or rally fireworks straight out of the showroom.
Those true homologation specials might be gone, but I'm pretty certain there will be other Porsche GT2s, GT3s and GT4s. Will there be another Trophy-R? Sadly, I doubt it. So please, can we stop scoffing at the price and instead celebrate this extreme and audacious machine for all the right reasons? So far as I'm concerned cars come no more covetable than this.