Porsche Macan four-cylinder for UK
An entry level Porsche Macan SUV gets a 2-litre VW Golf GTI engine, with limited UK sales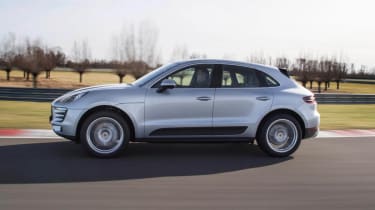 The Porsche Macan range has gained a four-cylinder entry-level model.
Originally designed for the Chinese market where taxes are kinder to sub-3-litre engine cars, this version of the Macan sneaked onto Porsche's UK site with little fanfare to speak of.
Furnishing the bottom of the model range, the 2-litre turbo four-pot is related to that in the Performance Pack model of the VW Golf GTI, producing 237bhp and 258lb ft of torque. Compare that with the 3-litre V6 Macan S, with 340bhp and 339lb ft, and it shows 103bhp and 81lb ft are sacrificed in favour of 20 per cent decreases in fuel consumption and CO2 emissions, the 2-litre Macan offering up 39mpg and 168g/km.
The 0-62 time is 6.9sec while the top speed is 138mph, 1.5sec and 19mph slower than the Macan S. Four-wheel drive and Porsche's seven-speed PDK paddleshift gearbox remain standard equipment.
Minor aesthetic changes can be spotted if you squint, with the new base model getting just two exhausts as opposed to the usual four seen on the higher spec models, smaller wheels and of course, no S or Turbo badging.
The UK base price is £40,276, just over £3000 cheaper than the Macan S. Unlike the more powerful car, though, this base model is special order only. Its key rival – with an identical power figure – is the Range Rover Evoque Si4 Dynamic, which costs £41,000.