Nick Tandy and Richard Attwood - Le Mans then and now
We speak to Porsche's first Le Mans winner and the man currently leading this year's race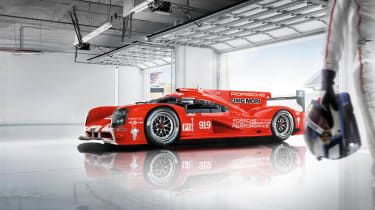 As Nick Tandy prepares to climb aboard his 919 Hybrid for the first time in this race, another driver watches on the big screen in Porsche's hospitality area; older, but with a stare undimmed in its intensity. It's the gaze of a man that once peered out into the darkness on the Mulsanne Straight, rifling along at speeds in excess of 220mph, in a car with just a fraction of the safety provisions afforded to Nick and his teammates.
Richard Attwood gave Porsche their first outright victory at the Le Mans 24-hour race in 1970. "It changed my life", says Attwood, "but not until many years later. At the time I felt rather deflated: I had mumps and I couldn't eat anything, I was in rather a poor state. We had a farewell dinner, and I just could not keep awake - it was embarrassing because I didn't know what was wrong with me, I only found out on the Tuesday after the race. I couldn't eat and I was probably dehydrated - there was no one to look after me".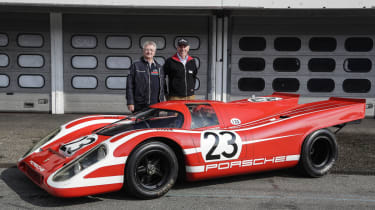 Today, Tandy can call upon a dedicated support crew that will look after his well-being. Experience has taught him that when he finishes a stint in the race, he leaves the team to do their work and switches off. "We have a room away from the garage - each 'car' has its own room. We can shower there and get some sleep. We don't have to worry about waking up as someone comes and does that when we're needed. I always shower and get fully dressed in my suit before going to sleep, so that I'm ready if the team need me in ten minutes".
The support given to drivers now is just as well, believes Attwood, because the race is much harder in the modern era. "The chicanes on the Mulsanne Straight changed it a lot. For a driver to go flat out was a lot easier. Back then if you got the exit out of (the old) Whitehouse Corner you had to lift slightly for the (pre-chicane era) Dunlop curve in a Porsche 917, but in a Ford GT40 it was flat. Although you did have to really concentrate and use all the road. I'd never be fit enough to drive the car (919) today - it's a violent drive now, the acceleration, the braking and the cornering. I've got no desire to drive one".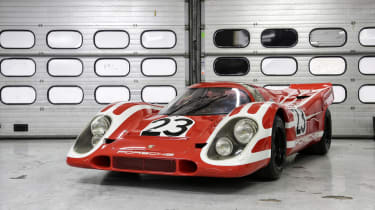 Having said that, he's under no illusion that drivers faced more dangers in his era: "If you had a big crash you would probably die. You knew you'd certainly be injured. We accepted that, it was all we knew".
With the greater appreciation of the race in the modern era, interest is higher than ever before in Attwood's victory. Tandy is under no illusions as to what victory would mean: "It's a career changing thing, there's so much interest around this race. If you win here, whatever else you do, even if you don't win anything else, you will always be known for winning the biggest race in the world".