'There's something joyful and juvenile about crate-engine culture'
Why is it only US car makers who offer crate engines, asks Meaden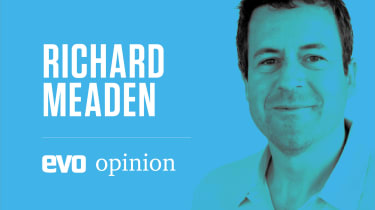 The crate engine might be a largely American phenomenon, but it's one that has fascinated me for years. The notion of being able to buy a ready-to-rock high-output motor from an OE manufacturer, with all the associated peace of mind and support that goes with it, is weirdly tantalising. 
America's 'Big Three' crate engine suppliers – that's to say Ford Racing, GM Performance and Mopar (Chrysler) – have been supplying plug 'n' play powertrains for decades. A trio of more partisan tribes you couldn't wish to meet, but they – together with an army of independent builders – are united in supplying the world with fully built, stupidly powerful engines, the majority of which are V8s displacing 5 litres and over. 
It's big business. According to a recent market study, global crate engine sales are set for a compound annual growth rate of 6 per cent over the next decade, with projected 2031 sales valued at an astonishing £25 billion. Spread across engine supply deals with low volume manufacturers, motorsport activities and, naturally, the world of hot rods and restomods, it's an extraordinary and largely overlooked part of the automotive industry.
I'll doubtless find some climate activists gluing themselves to my driveway for saying so, but there's something rather wonderful about a ready supply of high-performance V8s. Especially when you live in the UK, where the availability of manufacturer-supplied engines is tightly controlled.
It's a great shame most car makers seem so blinkered. After all, wherever you find petrolheads you'll find people who love to build one-off projects or dream up amazing engine swaps. So, while the US manufacturers seem geared to facilitate everyone's beer-fuelled 'what if' fantasies, the rest of the automotive world is depressingly sniffy, preferring to restrict the supply of new engines only to those needing direct replacements – and charging like wounded rhinoceri for the privilege. 
I'm sure plenty of people would love to drop one of AMG's 4.0 biturbo V8s, or maybe a Nissan VR38DETT V6 into their project, but unless you're prepared to buy and eviscerate a written-off C63 or R35 GT-R you're out of luck. And grafting well-used powertrains with murky provenance into your labour of love just adds more effort and jeopardy to an already formidable challenge.   
As you'd expect, US crate engines come in all shapes and sizes. Ford offers everything from a four-cylinder EcoBoost to pushrod Big Block competition motors, while GM's 'Connect and Cruise' packages offer motor and transmission pairings complete with control systems and installation kits. Fancy a latest generation 455bhp LT1 6.2-litre V8 from the new C8 Corvette, complete with eight-speed transmission? Just order online. Likewise a 570bhp LS4 motor mated to a six-speed Tremec manual gearbox. Cost? At current exchange rates the former is listed at the equivalent of £12k, the latter a little over £14k.     
In a world where everything feels weighed down by doom and gloom, there's also something joyful and juvenile about crate-engine culture. At this end of the scene, bigger really is better. Take Chevrolet's new ZZ632 Big Block V8. Its nickname game might be weak, at least in the face of Mopar's magnificent supercharged 'Hellephant' or Ford's upcoming twin-turbo 'Megazilla', but there's no arguing with 10.35 naturally aspirated litres that churn out 1004bhp and 876lb ft of torque.
However this is small beer compared with the undisputed King of the Crate offered by Nelson Racing Engines. Blessed with the stupendous soubriquet 'Maximus Hemi' and 572cu of displacement (that's the best part of 9.4 litres to spare you the maths), this twin-turbo monster makes 2253bhp and 1927lb ft of torque on 1.7 bar of boost. Apparently if you wind that up to just over 3 bar, Nelson claims power increases to a 'reliable' 3000bhp. If I win the EuroMillions, I hereby promise to embark on shoehorning a Maximus Hemi into the back of a Bugatti Chiron. 
It's sad but fitting that these off-the-peg engines will probably be the last bastion of internal combustion. All is not lost, though, for with the electromod scene gaining in popularity, the incumbent cadre of crate engine suppliers are poised to neatly segue into the electric motor market. GM's 'e-crate' concept uses a pair of Chevy Volt motors. Ford has also made the jump, with the 281bhp/318lb ft 'Eluminator' electric crate motor. 
As a dinosaur of the ICE age, I struggle to summon an emotional connection to EV powertrains, but given the Eluminator is about the size of a carry-on case, it's easy to appreciate the potential. Both for the limitless applications and abundant performance. However, until such time as there's no petrol-powered alternative, I will continue to indulge my crate V8 fantasies. I might not have need for a Hellephant, but that doesn't stop me wanting one.