Nissan 350Z Roadster
This is one convertible that promises to be just as much fun when winter arrives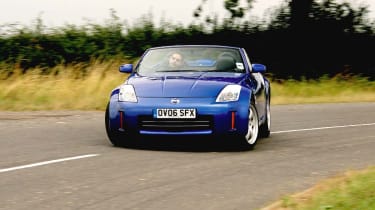 On three separate occasions when asked what I'm driving these days, the response 'Nissan 350Z' has earned the reaction 'Euurggh! A Nissan!' Strange, don't you think? 'Why "euurggh"?' I asked. 'Nissan builds the Micra! Horrible little car!'
OK, I can understand the Micra's cutesy looks not being everyone's cup of tea, but all three Micra-haters were women, and that one car had completely killed the brand for them. When they saw the Zed, their resolve weakened, but it seems that the two cars are uncomfortable bedfellows.
The Nissan badge was further called into question when a friend told me he was thinking of buying a BMW Z4 or a new TT. I told him to go for the Nissan instead. Cue much guffawing. And then I took him out in my car, and he went all quiet… The next day an email pinged through with a link to Auto Trader's website and a lovely black 350Z coupe with the full Nismo bodykit. Seems the 350Z is now top of his list. It's that sort of car – easily dismissed until you try it, and then impossible to ignore.
Now, although I'm not normally a hood-down sort of person, I must admit to almost enjoying the cool breeze rushing around the Nissan's cabin and the noise of the big-hearted V6 reverberating off buildings and parked cars. But I secretly hope to find leaden skies and glistening tarmac when I open the curtains each morning, because tweaking the 350Z's tail wide on wet roundabouts and slip-roads is irresistible.
Running Costs
| | |
| --- | --- |
| Date acquired | July 2006 |
| Total mileage | 3389 |
| Costs this month | £0 |
| Mileage this month | 1564 |
| MPG this month | 21.9mpg |