Red Victor 3 speed record
A 3000bhp Vauxhall Victor, known as Red Victor 3, has reclaimed its crown as the world's fastest road-legal drag racing car.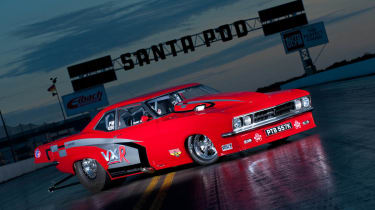 After achieving a mind-blowingly fast quarter-mile time of 6.59 seconds at 220mph, this rather modified 1972 Vauxhall Victor has once again become the fastest street-legal drag racing car in the world.
First built by Andy Frost in 1981, Red Victor has gone through many different changes over the years, with this latest and most powerful build (3000bhp) was designed to reclaim the world record from American Rod Saboury's six-second street-legal Corvette.
The record was set at the FIA European drag racing championships from 1-4 June, and the time cements Red Victor 3 officially as the fastest road-legal car over a quarter of a mile in the world.
Read the full story of Red Victor 3 in evo issue 167.