Prius is Green
WhatGreenCar Car of the Year 2009 Awarded to 'next generation' Toyota Prius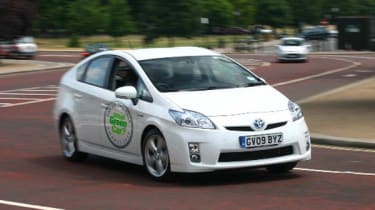 From a short-list of ten cars driven by green experts at Imperial College, London the 2009 Prius was given a score of 33, with 0 being most green and 100 being most polluting.
Other cars on the short-list are fully electric, such as the Citroen C1 ev'ie electric and Mitsubishi i-MiEV electric. Despite these being more economical the judges were impressed by the Prius' cradle-to-grave environmental credentials, particularly the way green features are seamlessly integrated into the design. For the first time plant-based bio plastics are used in the car and a solar roof keeps temperature comfortable inside the car.
The new Prius, oddly enough, uses a 1.8-litre engine as opposed to the 1.5-litre from the older model, although, overall fuel economy is improved to 72.4mpg. There is also the choice of driving in EV mode, which allows the Prius to be driven solely on battery charge for as long as it will last.
The judges also commended the Ford Fiesta ECOnetic as the greenest super mini, the Honda Insight hybrid, which was just pipped by the Prius and the BMW 318d+ DPF because of the low price and high performance.