Alpine A110 Cup - Race series confirmed for new French sports car
249bhp mid-engined sports cars will go head-to-head in the new production-based race series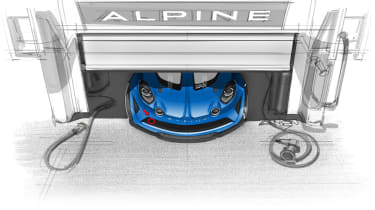 Alpine, the French sports car brand recently revived by Renault Sport, has announced a one-make race series for its new A110 sports car.
The Alpine A110 Cup will take place on race circuits around Europe and will offer grids of up to 20 cars, each heavily based on the standard production A110s.
Details are very thin on the ground at the moment, but Alpine has confirmed that the most significant modification will be a roll cage. Otherwise, the cars should return the production models' 1.8-litre turbocharged four-cylinder engines and dual-clutch transmissions.
An initial sketch suggests the race cars won't differ too much from the road cars in styling terms, with just the obligatory tow hook and a pair of bonnet pins hinting at race-specific modifications. Signatec, best known for its success in the LMP2 class in endurance racing (and the team behind Alpine's WEC efforts), will design, build, homologate and sell the A110 Cup cars.
Like many one-make series, there should be some exiting racing - in road trim, the A110 comes in at 1103kg and develops 249bhp, for a power-to-weight ratio of 226bhp per ton - similar to that of a Porsche Cayman. A recent ride in a production-spec car suggests there's plenty to look forward to when it hits the road, as well as the race circuit.
That should happen towards the end of the year, with first drives beginning in October. No date has been confirmed for the start of the race series but that's likely to begin in 2018 - a full thirty years after the last Alpine Cup, using Renault-Alpine GTAs, disappeared.