This week on evo - Paris motor show special
A look at the most exciting things from the world of evo this week
evo has spent the last few days at the 2016 Paris motor show. While there was nothing truly groundbreaking at this year's show, there were certainly a few treats for those who knew where to look.
Below we've picked a selection of the cars that really stood out, from Ferrari's heritage-inspired liveries to Renault's striking electric sports car concept. For a full run-down on our Paris stories you can head to our Paris motor show hub page.
2017 Honda Civic Type R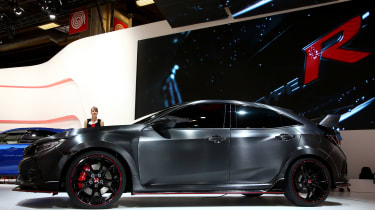 When the current Civic Type R was revealed it instantly became one of the most popular cars we've ever seen on the evo website. Launched in Paris as a "Prototype", the the latest Civic Type R has already repeated that feat.
Like the current model, it's very much love-it or loathe-it design, with scoops, spoilers and in the case of the Prototype, a textured black paint finish. It's expected to use a tweaked version of the current car's 306bhp 2-litre turbocharged four-cylinder, and with a more sophisticated chassis it could be even better to drive.
Renault Trezor concept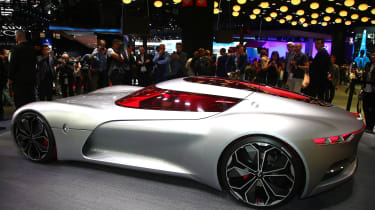 Unlike the Civic above, we're highly unlikely to ever see the Trezor concept on the road. No longer does Renault push its most striking concepts through to production almost unscathed (remember the Avantime?).
But as a statement of the company's design direction it's certainly interesting, and with electric propulsion, autonomous tech and a carbonfibre central cell, there's a strong technological aspect too.
Hyundai RN30 concept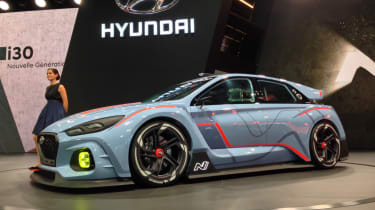 Hyundai will soon be launching a high-performance version of its i30 family hatchback, and the RN30 concept at the Paris show is our best look yet at some of the features that might find their way onto the production car.
It's unlikely to be quite as dramatic in production form - the RN30 even overshadowed Hyundai's 2017 WRC car - but with ex-BMW M guru Albert Biermann handling the development, it could well be a performance car to look forward to.
Audi RS3 saloon
If you've ever wanted a compact Audi saloon with a high-output turbocharged inline-five under the bonnet it's your lucky week, because that's exactly what Audi launched in Paris.
The new RS3 saloon uses the same engine as its hatchback counterpart and develops 394bhp - enough to hit 62mph in 4.1sec. It looks good too, and Audi even presented a racing version alongside it at the show.
Ferrari's historic liveries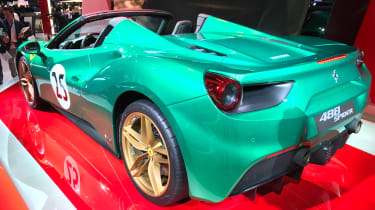 Soon available from Ferrari's Tailor Made atelier are 70 new liveries inspired by cars and people throughout the company's history. As a preview, Ferrari unveiled several cars in these new liveries at the show.
Among them were an F12 Berlinetta painted like the 250 GT SWB driven by Stirling Moss, and a 488 GTB 'Schumacher', wearing a red and white paint scheme inspired by Michael Schumacher's championship-winning 2003 F1 car.