Jaguar XKR-S v Mercedes SL63 AMG track video
Two big V8-powered convertibles, the Jaguar XKR-S and Mercedes SL63 AMG do battle on track at Bedford. Sideways video action here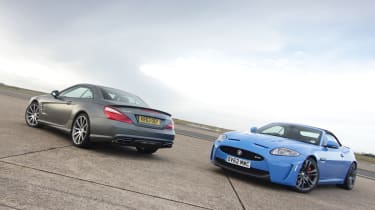 This week's evo track battle pitches the 542bhp Jaguar XKR-S against the 530bhp Mercedes SL63 AMG at the Bedford Autodrome.
With a big V8 up front, rear-wheel drive and a convertible top, both cars share a basic layout. How they perform on track couldn't be more different however. Jethro Bovingdon puts both of these muscular cruisers to the ultimate test on track – far from their natural habitat.
Subscribe to evo's Youtube channel to keep track of all the latest track battle videos.
)