evo Leaderboard - Mercedes-AMG S65 Coupe
Big power, but big weight too - how fast is Mercedes-AMG's flagship at Anglesey?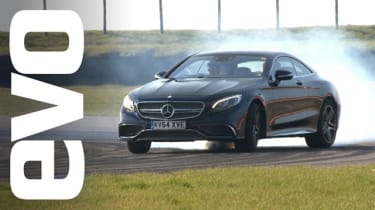 The Mercedes S65 AMG is not your typical evo car, less still a track vehicle. While it has huge performance, it also has huge dimensions, huge weight and huge reliance on high-technology over tactility.
Still, when a car debuts with systems that read the road ahead to prepare the suspension for the surface it's about to encounter, and Active Body Control that tips the inside of the car into corners to eliminate body roll, they're more than worth exploring. Perhaps they can turn such a vast vehicle into a thrilling drivers' car.
Or not, as you'll find out in Jethro Bovingdon's video, recorded at a gloriously sunny Anglesey circuit in Wales.
There's little doubt as to the car's performance potential, and rarely will you watch an evo video where so little engine noise infiltrates the cabin. But the AMG's supertanker mass and a highly sophisticated ESP system mean real fun is difficult to find.
Well, unless you're able to deactivate the ESP. The car won't be any quicker, but as Jethro demonstrates, 621bhp and 738lb ft of torque are more than enough to play with…