Mercedes B-class Electric Drive details and pictures
Mercedes has revealed full pricing and details of its electric B-class. News and pictures here.
Mercedes has opened UK orders for its B-class Electric Drive - a plug-in version of the firm's practical mini-MPV and conceptually, its closest rival to the futuristic BMW i3.
Pricing starts at £31,950 before the government's OLEV grant, which brings on-the-road pricing down to £26,950. For comparison, the BMW i3 is £25,680 after the same grant.
For that buyers get a car in 'Sport' trim, with appropriately styled front and rear bumpers, 17in alloy wheels, LED daytime running lights, a 7in central display screen, a reversing camera and cruise control.
The only other trim option available, Electric Art, adds Cirrus White and South Sea Blue paint options to the Sport's standard eight shades, as well as contrasting mirrors and radiator grille elements, 18in two-tone alloys, contrasting stitching on the seats and aluminium trim.
Featuring a 16.6kWh lithium ion battery and motor developed in conjunction with electric expert Tesla Motors, the zero-local-emission B-class produces 177bhp and 251lb ft of torque. This enables it to whizz from 0-60 in 7.9sec and onto a 99mph top speed, with an expected 124-mile range.
This compares to the all-electric BMW i3, which can eke out 118 miles when not fitted with an optional range extender. Coincidentally, a Volkswagen e-Golf will run out of juice after the same distance.
An optional £945 Energy Assist Package should help make the most of the available range, boosting the car's regenerative braking capabilities when it detects traffic ahead and uses signals from Mercedes' COMAND system to adjust functions according to the topography of the road ahead.
In terms of charging time, Mercedes says a public station or dedicated wall box at home will allow a full charge in 3-4 hours. Plug into a regular outlet in your garage and that can extend to nine hours.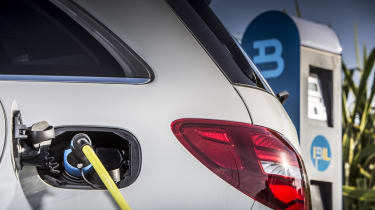 Mercedes-Benz B-class range
The Electric Drive joins the rest of the B-class range recently unveiled in updated form at the Paris motor show. With additional petrol and diesel powerplants, the hatch now has greater competition than it did, since the launch of the BMW 2-series Active Tourer. Available in five-door form only, it's is expected to retain its title as Merc's best selling vehicle, with the outgoing model having surpassed a substantial 350,000 sales since its 2011 launch.
Tthe one-box shaped MPV features a new front bumper, daytime running lights and small updates across the body to give it a refreshed look.
The interior has received much the same, with the head unit display growing to 8inches, and options for keyless entry, keyless start and smartphone connectivity joining the tech list. Safety features such as an accident reducing auto-brake function have also been updated for the new car.
The five-seat hatch comes with a wide range of engines offering performance and economy. The diesels, available as 180, 200 or 220 CDI, offer as much as 78.5mpg and produce as little as 94g/km of CO2, whilst the petrols in 180 and 200 form, offer as much as 52.3mpg and produce no more than 130g/km of CO2.
The fastest powerplant is the 174bhp 220 CDI, which when fitted with either the standard 7G-DCT dual-clutch or optional 4MATIC automatic transmission, can accelerate from 0-60 in 8.3sec and reach a top speed of 139mph. Other engines in the range come as standard with a five-speed manual.
Dynamically, the lighter (around 200kg less) petrol or diesel B-class variants should be a little more nimble than the Electric Drive. The 200 petrol stands most chance of appealing to evo readers, with its strong, revvy character and useful low-down grunt. The optional Sport setup also brings a lower, firmer ride and larger 18inch wheels to add precision to handling.
Regular B-class pricing starts from £22,575 with deliveries already underway.