Mercedes-AMG electric car to target Porsche Taycan and Tesla Model S
AMG's performance hybrids are just the beginning, with a new, bespoke EV already well into development.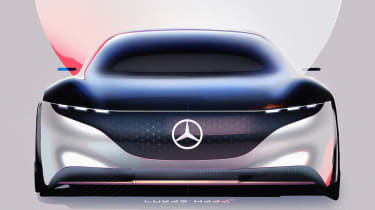 Mercedes-AMG is already two years into the development of a high-performance electric car that will rival the Porsche Taycan and Tesla Model S. Confirmed in an interview with AMG boss Tobias Moers at the 2019 Frankfurt motor show, the new model will be underpinned by Mercedes' upcoming e-platform that will follow the precedent set by Tesla and Porsche in employing a skateboard-style battery layout.
The AMG car will differ greatly from the incoming wave of next-generation Mercedes-Benz EVs (previewed by the Vision EQS pictured above), with Moers confirming: 'We (AMG) are developing a battery, which meets our requirements regarding performance, both in and out. High-powered electric motors, too.'
The powertrain will have a different set of requirements and performance targets compared to the components in development by Mercedes, with AMG targeting the new Porsche Taycan in terms of performance and range, and Moers claiming it as the new industry benchmark.
The specific form this new AMG will take is more vague, however. 'There is room for a lot of creativity regarding a purpose-designed BEV platform [derived] from Mercedes, as well there is a lot of room for creative moments,' Moers said.
Whatever that form is, AMG will 'apply the same strategy and the same attitude to a BEV model' as it does to that of normal AMG models, with a totally different approach in regards to its axles, steering and overall dynamic package.
How AMG injects its own distinct character into an electric performance car is the bigger question. Moers is confident AMG is already there, but without a charismatic internal combustion engine to reinforce any real aggression, the challenge of synthetically creating a new form of AMG character remains to be seen. We'll soon see if Porsche has been successful in its own quest to translate its own 70 years of character into an electric car when we drive the Taycan in a few weeks' time.
Now read more about the new Porsche Taycan here...