Sideways in a McLaren F1 – evo Archive
It's the most expensive car we've ever had sideways. This is how it happened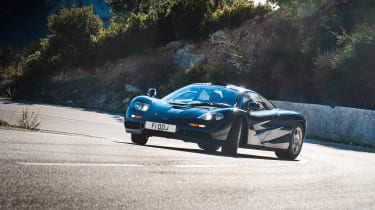 Talk about peaking early. Issue 205 (February 2015) was Aston Parrott's first cover shoot. He had only been evo's staff photographer for a few months and, aged just 24, there he was in the south of France, tasked with capturing a matching pair of McLarens – an F1 and a P1.
It was a shoot that had been a long time in the organising, as you can imagine, but Aston only got the nod that he would be doing the photographs a few days before boarding the easyJet flight. 
'That whole shoot was pretty crazy,' he says when I quiz him about it. 'It was December, so the days weren't long and it felt like a real rush. The road looked nice, but wasn't actually ideal for cars with so much performance and it was also really busy with traffic at certain times of day, so we had to shoot in less than ideal light a lot of the time.' Clearly, even though it was early in his career, Aston had already been well schooled in The Photographer's Big Book of Reasons Why The Light Isn't Right.
The photo that really stood out was indeed shot in less than ideal light, but it was still more than good enough to end up on the subscriber's edition covers of evo that month. After all, it's not every day/decade that you see a McLaren F1 sideways. The man in the middle was none other than Dickie Meaden. 
> Lanzante McLaren P1 HDK receives 4-litre Cosworth-fettled V8
'It was probably a rash thing to do, but it also felt like the right thing to do,' he recalls. 'There was a certain degree of ego involved, but I also knew that if we could make it happen then it would be good for Aston and for evo. It would get people talking.
'A lot of things had to be right for me to even suggest it, though. For a start I had to be sure that the owner of the car wouldn't go totally tonto if he saw a shot of his car being driven like that! Other than that, the corner felt just right and the F1 has lovely clean throttle response with plenty of torque, so that made things easier. The car looked great doing it. Really expressive.'
And expensive…
'As you get older you tend to listen to your inner voice more and trust yourself so that you don't feel the pressure. If it feels right, then it doesn't actually feel risky. If I'd tried it once and hadn't been happy then I wouldn't have pushed it.'
Understandably though, Dickie wasn't about to repeat a multi-million-pound cornering shot more times than necessary, so Aston really had to be on his game. 
'I think Dickie did it two, maybe three times,' says Aston, 'enough for me to get one front shot and one rear. Then it was straight on to the next photo. The whole shoot was so crazy that at the time I don't think this one shot even stood out that much! What I do remember, though, is you giving me a ride in the F1 back to the hotel in the evening – the sound of that engine!'
The following day, Sam Riley arrived and we did the whole shoot again for his video cameras. I remember being in quite a lot of pain while we were filming thanks to an impacted wisdom tooth that had to be removed as soon as I got back to the UK. It was also my birthday while we were out there, so everyone celebrated on the final evening. Sam was very good at getting the drinks in… while kindly putting them all on my room.
The bill when we came to check out the following morning was nearly as painful as my toothache. Thankfully there was a great shot of a sideways F1 to distract the publisher from my expenses at the end of the month.