Mazda MX-5 crowned World Car of the Year 2016
Fourth generation car wins at New York motor show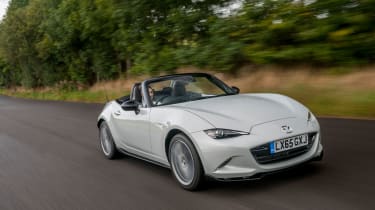 The Mazda MX-5 has won World Car of the Year 2016, with the prize handed out at this year's New York motor show. The car, which was up against the Mercedes GLC and Audi A4, claimed the prize following nominations from motoring journalists from around the world.
The MX-5 also took the win in the Best Car Design category, beating the Jaguar XE and Mazda's CX-3. We awarded the MX-5 four stars, praising its keen engines, gearbox and low-speed fun factor.
The Mazda MX-5 was also unveiled at the New York show in hard-top convertible form. Called the RF, it sports a targa-style roof, optional auto gearbox and revised suspension and steering settings.
Also awarded a much deserved win was the Audi R8, which claimed best performance car. The BMW 7 Series took the luxury car prize.
Watch the Mazda MX-5 take on a Toyota GT86 on track below