Lotus announces Exige S Automatic
Quicker than a manual, but not by much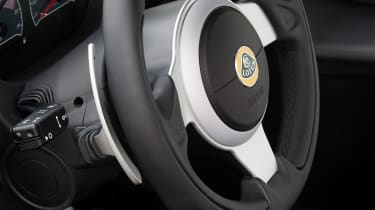 Lotus has confirmed plans for an Exige S with a 6-speed automatic gearbox. The car features forged aluminium shift paddles on either side of the wheel and promises a shift time of 240milliseconds.
The Exige S Automatic can run in either automatic or manual gearshift modes with controls for the auto box being carried out by buttons mounted in the centre console.
A throttle blip is used on downshifts and Lotus promises the Exige S Automatic is as quick around its Hethel test track as a standard manual car.
Options include a Race Pack, which features a tweaked version of the Lotus Dynamic Performance Management system designed to give more slip in the traction control to the driver.
0-60mph is dispatched in 3.8 seconds, with the 3.5-litre 345bhp V6 topping out at 162mph. At 1182 kg, the Exige S remains a very light and very fast car, especially when you think that low weight is mated to 295 lbft of torque.
Pricing for the Exige S Automatic box is £1,667 over base model prices, it's available on both the Exige S and Exige S Roadster.